Presales technology has witnessed remarkable growth in recent years. Business leaders have come to recognize the immense time and effort invested by presales teams in handling lengthy RFP questionnaires, customized demos, and sales-focused content. As a result, the demand for presales software has skyrocketed, leading to the establishment of new categories dedicated to presales software by prominent organizations like G2 and Gartner.
However, with the multitude of presales software options available, it becomes challenging to discern the exact nature of presales software, its impact on sales outcomes, and the ideal software solution for your organization. In this article, we will define presales software, emphasize its significance, and compile a comprehensive roundup of the best presales tools available in the market today.
What constitutes presales software?
Presales software empowers solution consultants, demo engineers, and solution architects to effectively manage their workload and showcase the full functionality of their software in an engaging and captivating manner for prospects. In essence, presales software simplifies the lives of presales professionals.
Presales teams bear the responsibility of helping prospects envision the transformative potential of a product. This often involves sharing proof of concepts (POCs) or delivering demos that highlight the value of the product. Since each potential customer may have unique preferences and requirements, presales teams must tailor POCs and demos to match those specific needs, sometimes even addressing extensive RFPs. Performing these tasks for multiple prospects on a daily or weekly basis demands considerable time and effort.
Even if a presales team designs a flawless POC or demo, unexpected bugs may emerge at the most inconvenient moments, jeopardizing the sale. Presales software addresses these challenges by reducing the manual labor involved and minimizing the potential for errors during presales activities. It streamlines the process, enables the delivery of exceptional presentations, and enhances presales productivity.
Top presales software on the market
With the presales software landscape expanding rapidly, it is crucial to comprehend the different types of software available and identify the industry leaders. Here, we present an overview of each product and how they enhance the effectiveness of presales teams.
1) Supademo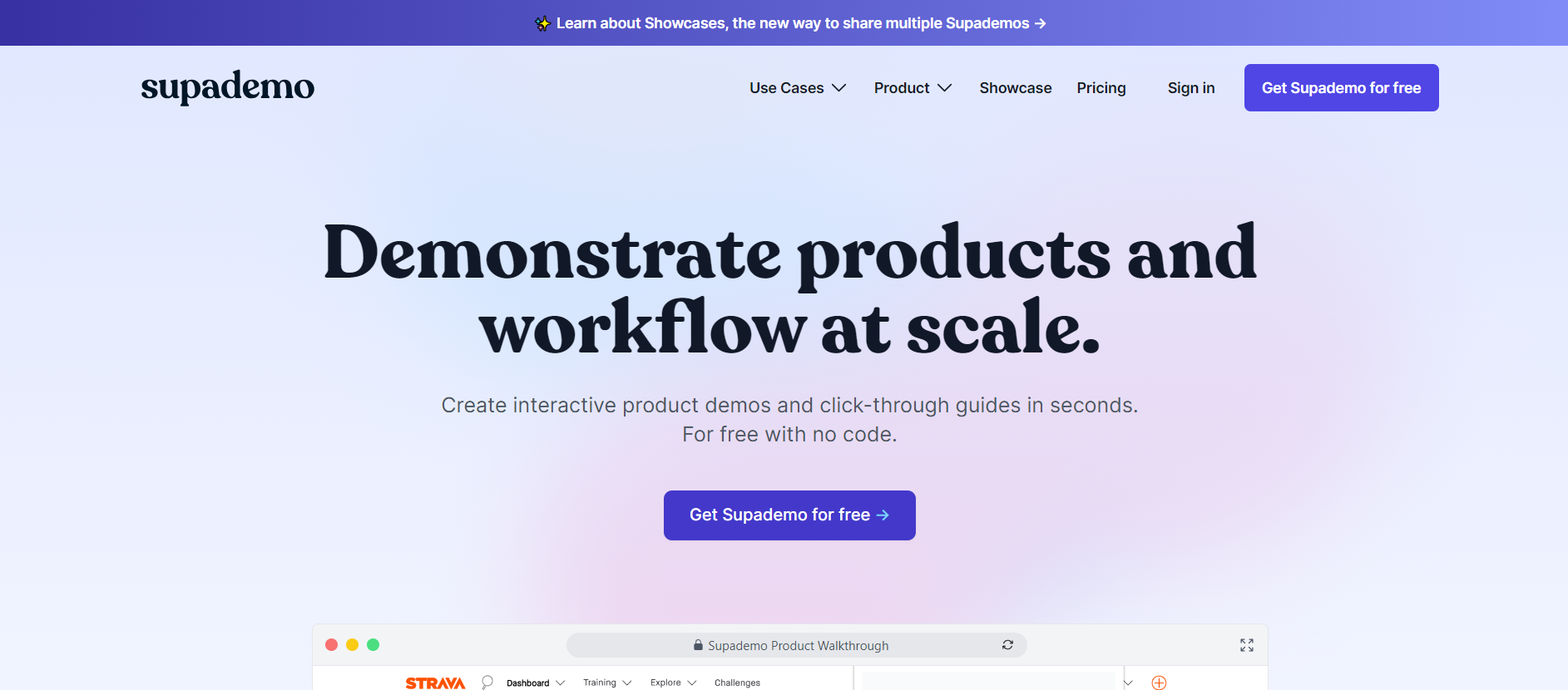 Experience the forefront of interactive demo creation and sharing with Supademo, the unrivaled AI-driven platform. Embrace its seamless interface that empowers you to effortlessly construct captivating click-through demos and guides, eliminating the need for coding expertise. Supademo takes your demos to unprecedented heights, establishing a groundbreaking benchmark in showcasing products and workflows. Unleash the potential of Supademo and revolutionize the way you engage and inspire your audience.
Notable Features of Supademo:
Creation of click-through demos and guides with no code required
AI-driven platform for scalable demo creation and sharing
Track user engagement
Embed your demos on your website
Share your demos on social media
2) Demodesk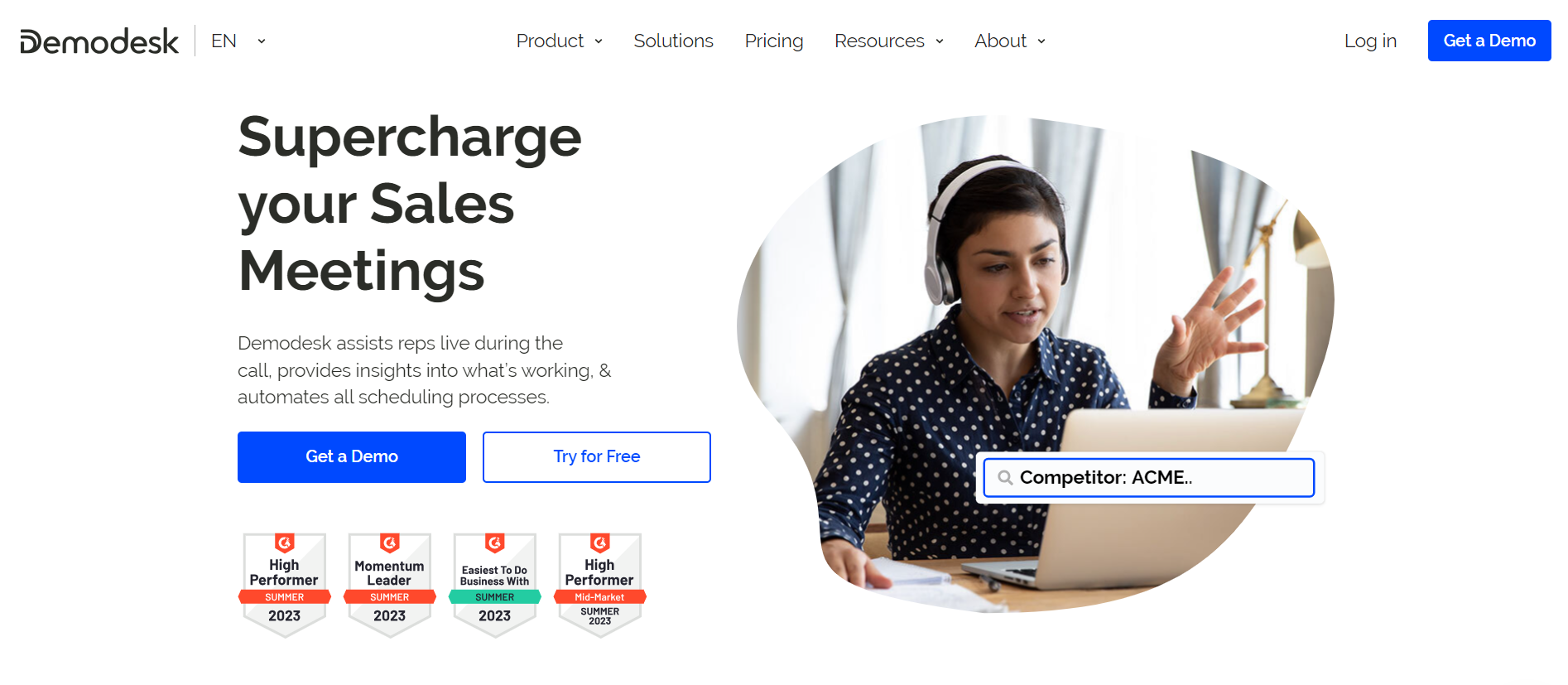 Demodesk serves as a live meeting room, transforming traditional one-sided demos into engaging conversations between presales teams and prospects. It offers features such as prepopulated talk tracks, content storage, and virtual displays, ensuring that presales teams have real-time access to the correct information during conversations.
Notable Features of Demodesk:
Multilingual support for German, English, French, Italian, and Spanish
Automation of scheduling and meeting distribution
Sales handoff automation
Branded virtual sales rooms for product and content interaction
3) Consensus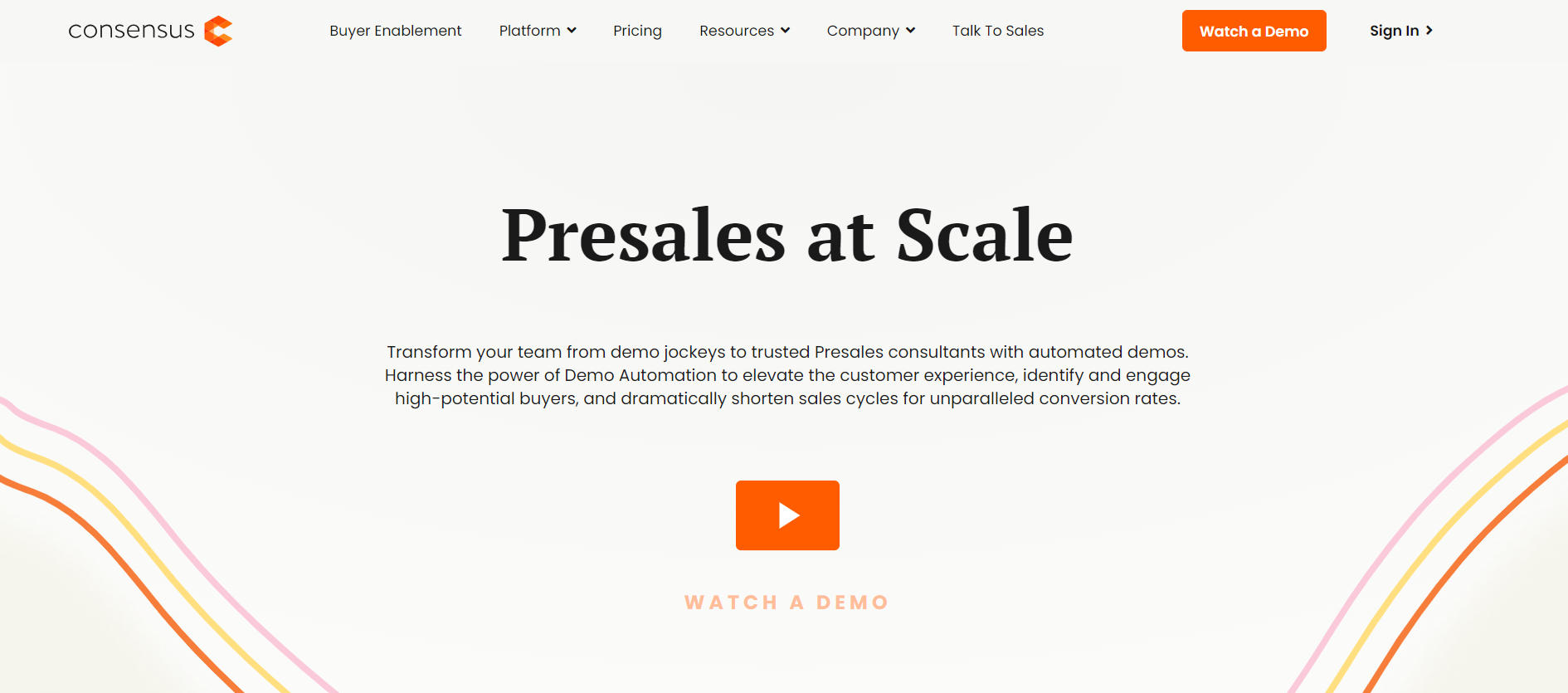 Consensus specializes in personalized, self-service demos. Presales teams can create demos using prerecorded videos, slides, and other documents, which are stored on the Consensus platform. Prospects can select topics of interest, leading them to demos showcasing relevant product features and benefits. Consensus also provides valuable insights by tracking prospect reactions.
Notable Features of Consensus:
Stakeholder intelligence
On-demand demos categorized by topic
Shareable demo links
Support for over 12 languages
4) Navattic

Navattic enables presales teams to create controlled and consistent overview demos that can be led or shared by any member of the sales team from the first interaction with a prospect. Its no-code editor allows sales engineers to design demos highlighting the product's most important functionality, replacing static sales decks or screenshots.
Notable Features of Navattic:
Captures page-level details like HTML and CSS code
No-code editor for easy demo creation
Automated screen linking
Creation of sharable demos for pre or post-demo outreach
5) Vivun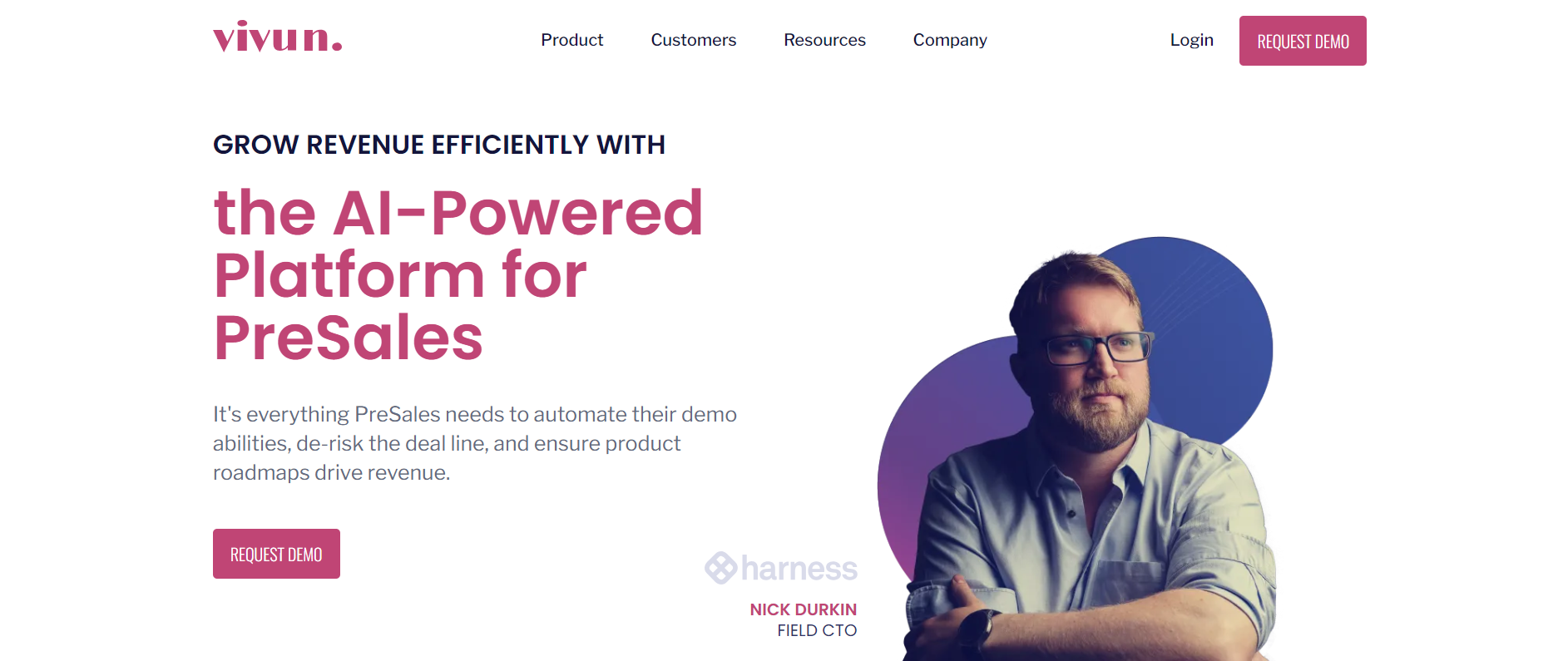 Built on top of Salesforce, Vivun is a presales workspace that harnesses the power of AI and machine learning. It offers features such as developing templates, sharing strategies, and measuring success. Vivun enables presales team leads to identify areas where team members spend the most time and optimize their processes accordingly.
Notable Features of Vivun:
AI-powered "Hero Score" for each deal
"Calendar Intelligence" for visibility into presales team activity and resource planning
Product Gap Library to capture and measure feature requests
Collaboration through the Vivun Eval module
The Bottom Line
Presales software has emerged as a game-changer, empowering teams to deliver impactful demos, optimize their workflows, and drive sales success. By leveraging the capabilities of these advanced tools, organizations can revolutionize their presales operations and stay ahead in today's competitive landscape.
When considering presales software options, Supademo stands out for several reasons. It offers user-friendly functionality, allowing even non-tech-savvy individuals to create interactive demos effortlessly. The affordability factor is notable, with a free plan for up to 10 demos and reasonably priced paid plans.
Supademo's rich feature set includes the ability to incorporate screenshots, videos, and annotations for tailored demos. Additionally, it provides comprehensive tracking of user engagement, embeddable options for websites, easy social media sharing, and the potential to enhance sales efficiency, customer understanding, and lead generation. Overall, Supademo is a highly recommended choice for businesses of all sizes aiming to achieve their presales objectives.