This is a testing page for Supademo
You may see unexpected behavior or contents on this page. This is not indexed by search engines.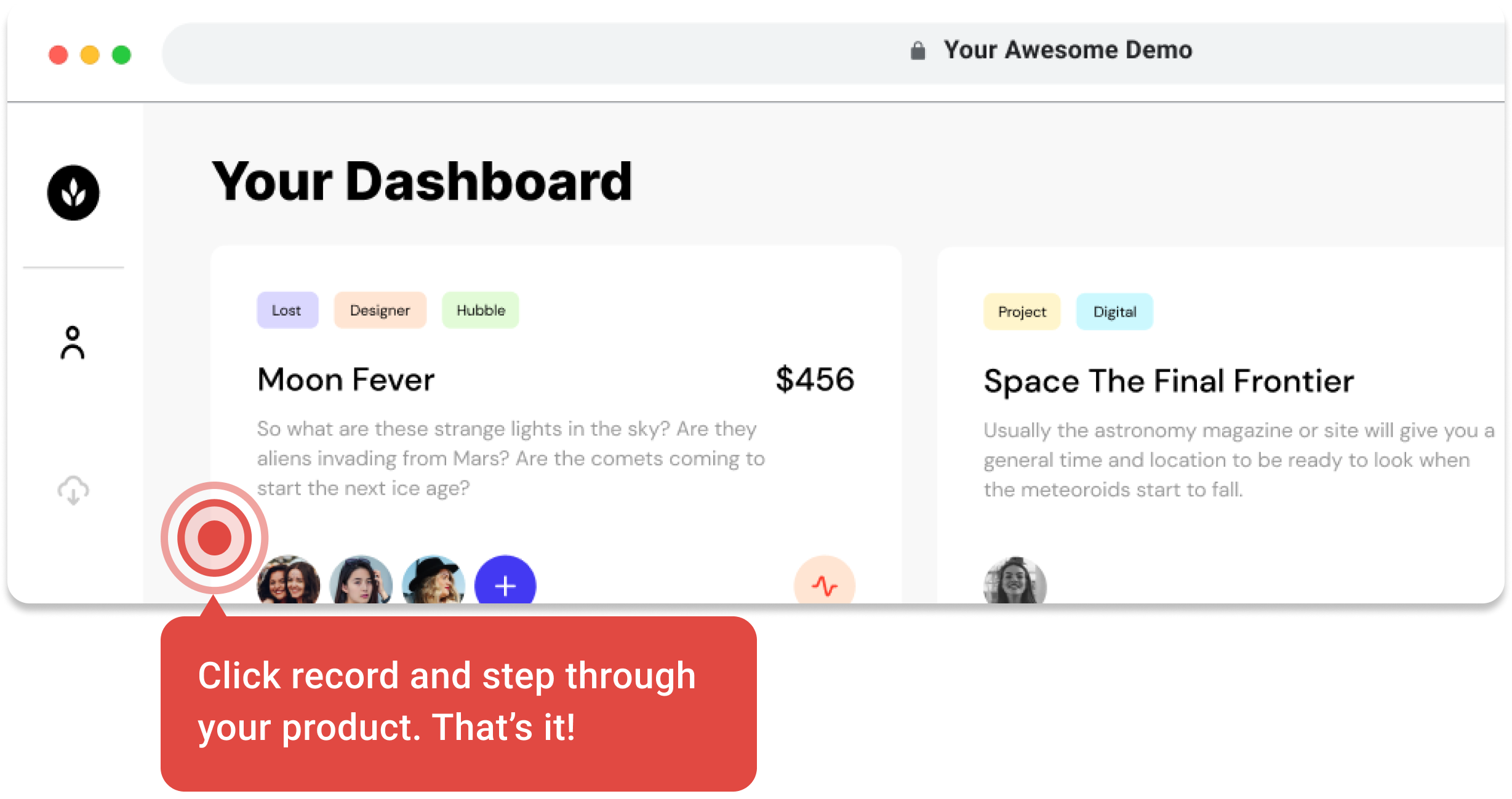 Build interactive demos in minutes, with no code
Demo Showcase

Group together multiple demos into feature showcases and walkthroughs.

Coming soon

Automatic Annotations

Simply click through your product and Supademo will draft up text annotations for each step.

Demo Autoplay

Guide customers through your product demo with customizable transitions.
Customize your interactive demo
Custom Branding

Let your brand shine through with a custom URL, colors, logo, and more.

Start Overlay

Highlight key points with a start overlay to preface your demo.

Team Collaboration

Share feedback, collaborate, and customize further with an interactive workspace.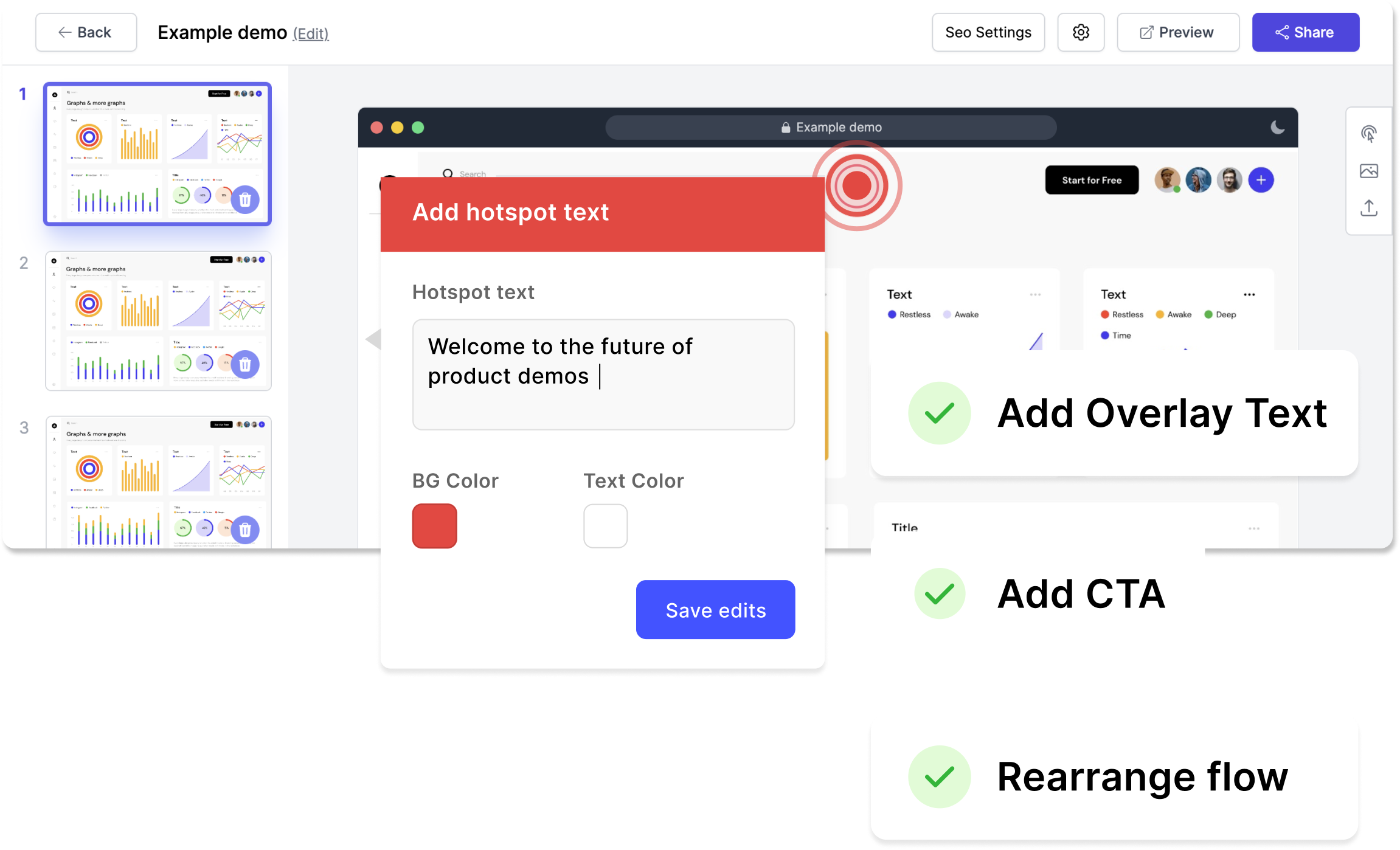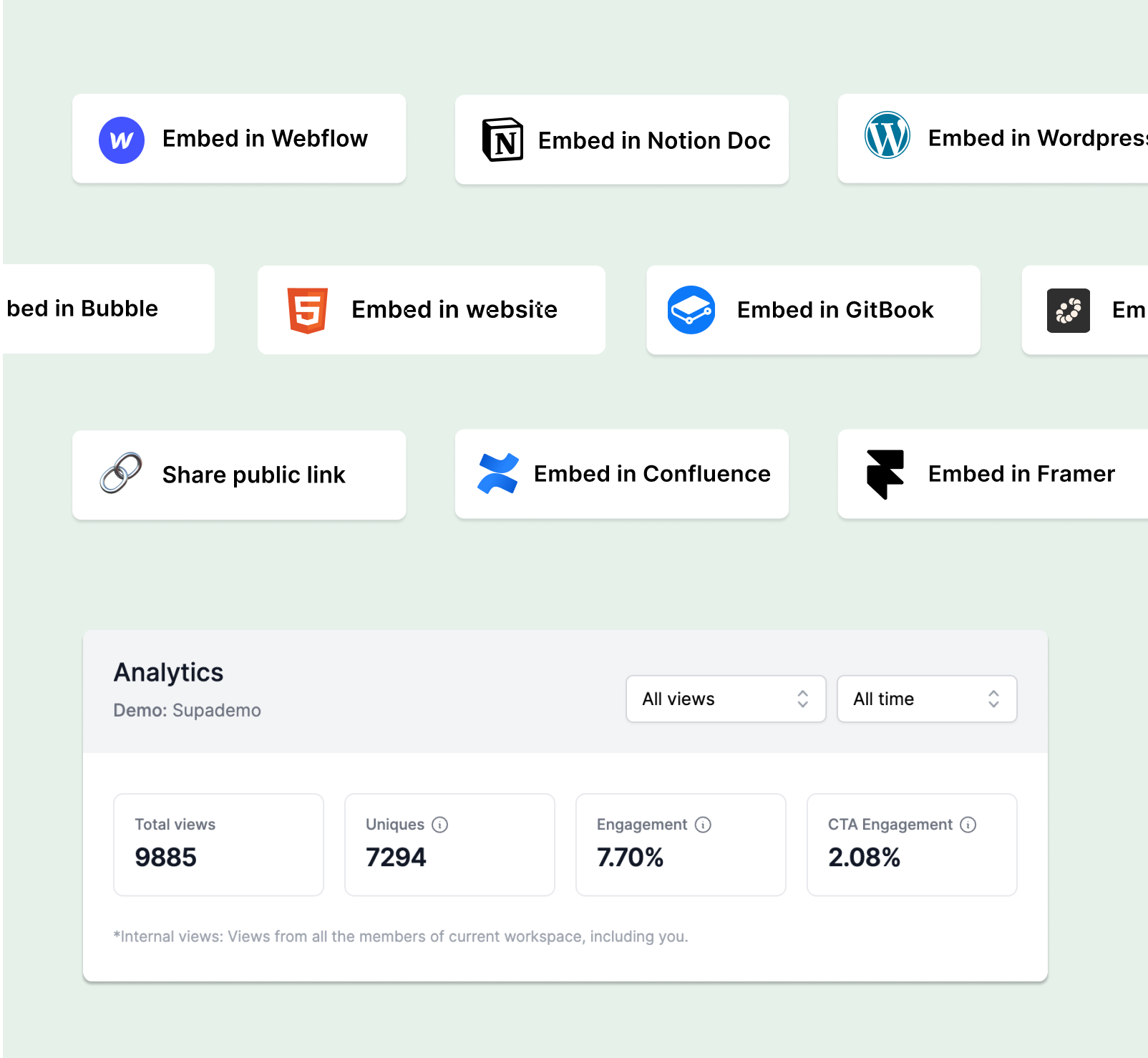 Embed, share, and measure
Share via link

Share your interactive product demo with a link.

Embed on websites

Add interactive demos to any website, blog, or support guide.

Lead capture

Add lead capture forms that add entries directly into your CRM.

Coming soon

Analytics

Track demo performance with aggregate or per-prospect insights.
Not another screen recorder
Supercharge user engagement and adoption with embeddable interactive product demos.
No-code extension
Record any product or workflow in 5 minutes with an easy-to-use, no-code Chrome extension.
Automatic text annotations
Click through your product or workflow and Supademo will automatically create text descriptions to annotate each step.
Upload images and screenshots
Add images to an existing Supademo or create one from scratch by using your own slides or screenshots.
Hotspot customization
Quickly edit automatic text annotations with your own text, color, or markdown edits.
Call-to-action
Empower your audience to take action at their point of inspiration with a call-to-action prompt.
Initial overlay
Highlight or summarize your demo intent with a overlay message that precedes your Supademo.
Autoplay & demo loops
Autoplay or loop your Supademo without any viewer interaction, just like an interactive video.
Redact and annotate
Quickly crop, redact, or annotate your demo slide - directly within the Supademo editor, instantly.
Custom domains
Let your brand shine through with a customized URL that is used for all of your Supademos.
Workspace theme
Set a default brand themes across all of your Supademos, such as hotspot colors, logo, and demo page CTA.
SEO customization
Accelerate your time to close with custom click-through demos that recap meetings and loop in decision makers.
Workspace collaboration
Share Supademo across personal and company workspaces for cross-functional feedback and editing.
Folders & bulk actions
Organize your Supademo by folders and use bulk actions to move, edit, or merge Supademos.
Single sign-on
Streamline your enterprise usage with single sign-on (SSO) and SAML functionality.
Showcase bundles
Group together related Supademos into feature showcases, onboarding kits, and walkthrough by customer segment.
Embed or share anywhere
Embed Supademo to your website, blog, support docs, or favorite tools - like Zendesk, Webflow, or Notion.
Export as GIF or PDF
Share your Supademo as an email attachment or through offline channels via quick exports.
Supademo analytics
Track your Supademo's performance by measuring engagement on a per-demo or aggregate basis.
Explore Supademo Use Cases
Get the fastest, easiest interactive demo platform for teams