Best Practices
10 Best Customer Training Software to Watch Out For in 2023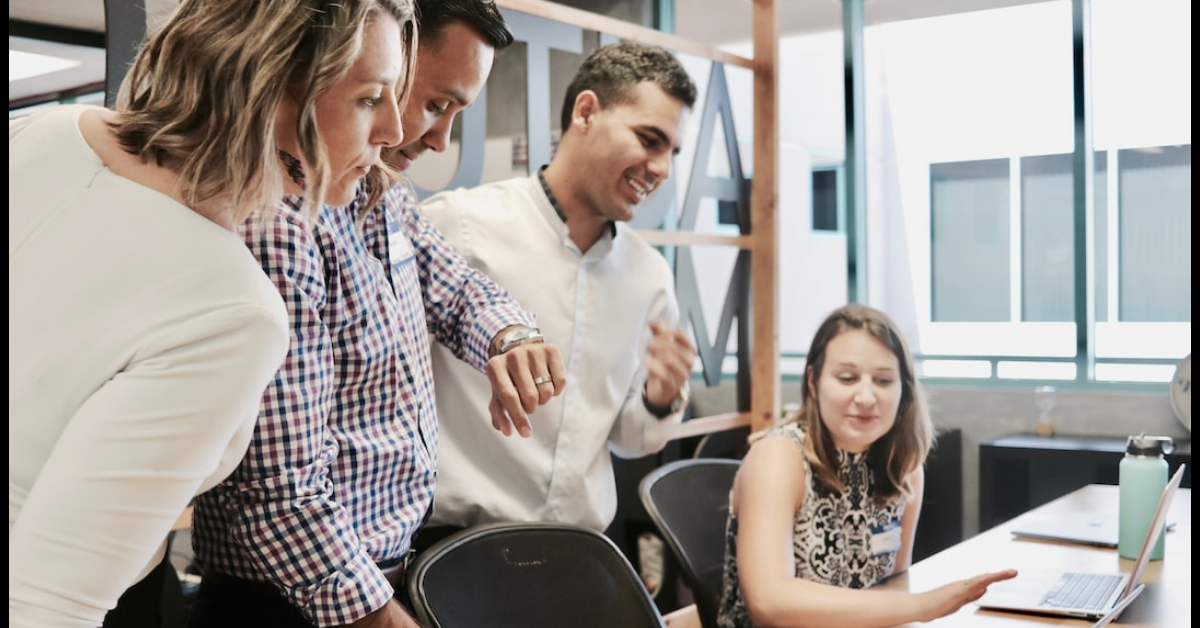 To ensure the success of any SaaS company, achieving a high customer adoption rate is crucial. This metric directly influences customer satisfaction, retention, and overall performance. Unfortunately, many companies tend to overlook a critical factor in attaining these business objectives – customer education.
Customer education plays a pivotal role, and this is where customer training software can make a significant impact. It represents the most effective way to scale customer success and support their journey. By providing comprehensive customer education, you can deliver a customer experience that guarantees enhanced value because an educated customer is the ideal customer.
But what exactly is customer training software?
It refers to a robust platform designed to facilitate customer education and onboarding, especially for complex products and solutions. A learning management system (LMS) is a critical component that enables the education and engagement of customers throughout their journey. By utilizing customer training software, you gain access to the necessary tools and resources for creating insightful training programs, ensuring that your customers derive maximum value from your products or solutions.
Enhancing user experience and engagement is essential when it comes to customer training. Customer training tools offer intuitive features and capabilities that enable efficient management of knowledge content and customer engagement. With these tools, you can quickly and effectively create visually appealing customer training programs. Ultimately, the software empowers you to drive increased customer adoption, improve retention rates, and boost upsells.
Key features to consider when selecting customer training software
User-friendly interface optimized for customer training
Customer training tracking and reporting
Single-sign and self-registration with dedicated customer portals
Built-in capabilities for gathering feedback
Seamless integration with existing systems
Training automation
Round-the-clock live support
Need of Customer Training Software
Efficient customer training should be a focal point for your business as it greatly influences customer engagement, loyalty, and retention. Moreover, it serves as an effective strategy for retaining existing customers, saving costs associated with acquiring new ones. Customer education leads to improved adoption rates, reduced service calls, and provides a platform for marketing your products.
By leveraging cutting-edge customer training tools, businesses can deliver insightful training programs, thereby scaling their customer success. The following are the benefits of using customer training software:
Improve and track customer engagement
Boost customer satisfaction and retention
Enhance the overall customer experience
Minimize customer churn
Increase customer spending
To achieve high customer adoption rates and ensure success, SaaS companies must prioritize customer education. Customer training software plays a vital role in scaling customer success and supporting their journey. These platforms provide the necessary tools and resources to create effective training programs and enhance the customer experience.
If you're looking for the best customer training software in 2023, here is a list of our top 10 recommendations:
1) Supademo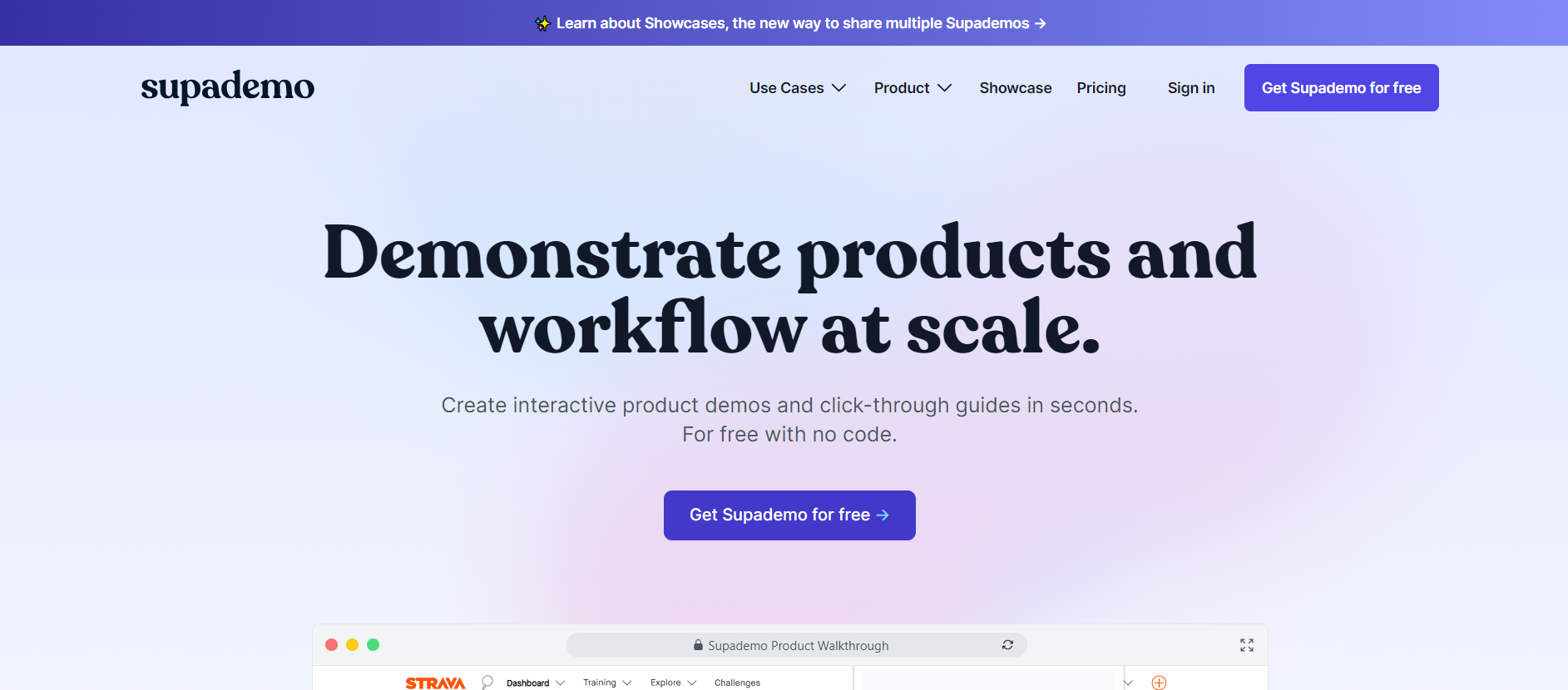 Supademo is an AI-driven platform that sets a new standard for creating and sharing interactive demos at scale. It allows users to create click-through demos and guides without any coding knowledge, making it the fastest and most user-friendly option available.
Supademo is a customer training software that simplifies the creation of interactive demos and guides. With a user-friendly interface and no coding required, trainers can quickly create click-through demos to showcase product features and processes.
The interactive nature of Supademo's demos enhances engagement and offers an immersive learning experience. Trainers can utilize visual guidance tools to draw attention to important areas within the demo. The software allows for easy sharing of demos with customers through shareable links or embedded options. Robust analytics and tracking features provide insights into customer engagement and help optimize training materials.
Supademo seamlessly integrates with other support and training platforms, ensuring a unified customer training experience. Its scalability makes it suitable for businesses of any size. Overall, Supademo empowers trainers to deliver captivating and effective customer training materials.
2) TalentLMS
TalentLMS is an innovative and intuitive learning management system that simplifies customer training program creation and management. It offers a wide range of tools and capabilities, enabling easy course creation and content maintenance even with product changes. The platform seamlessly integrates with popular tools like Zendesk and Salesforce, ensuring uninterrupted and timely customer training.
3) Skilljar

Skilljar is an enterprise customer training software that provides comprehensive features and tools for educating, engaging, and retaining customers. It supports native quizzing and live training, allowing the creation of personalized learning paths based on user skillsets, roles, and use cases. With analytics and integrations, actionable data can be used to improve learning paths.
4) UserGuiding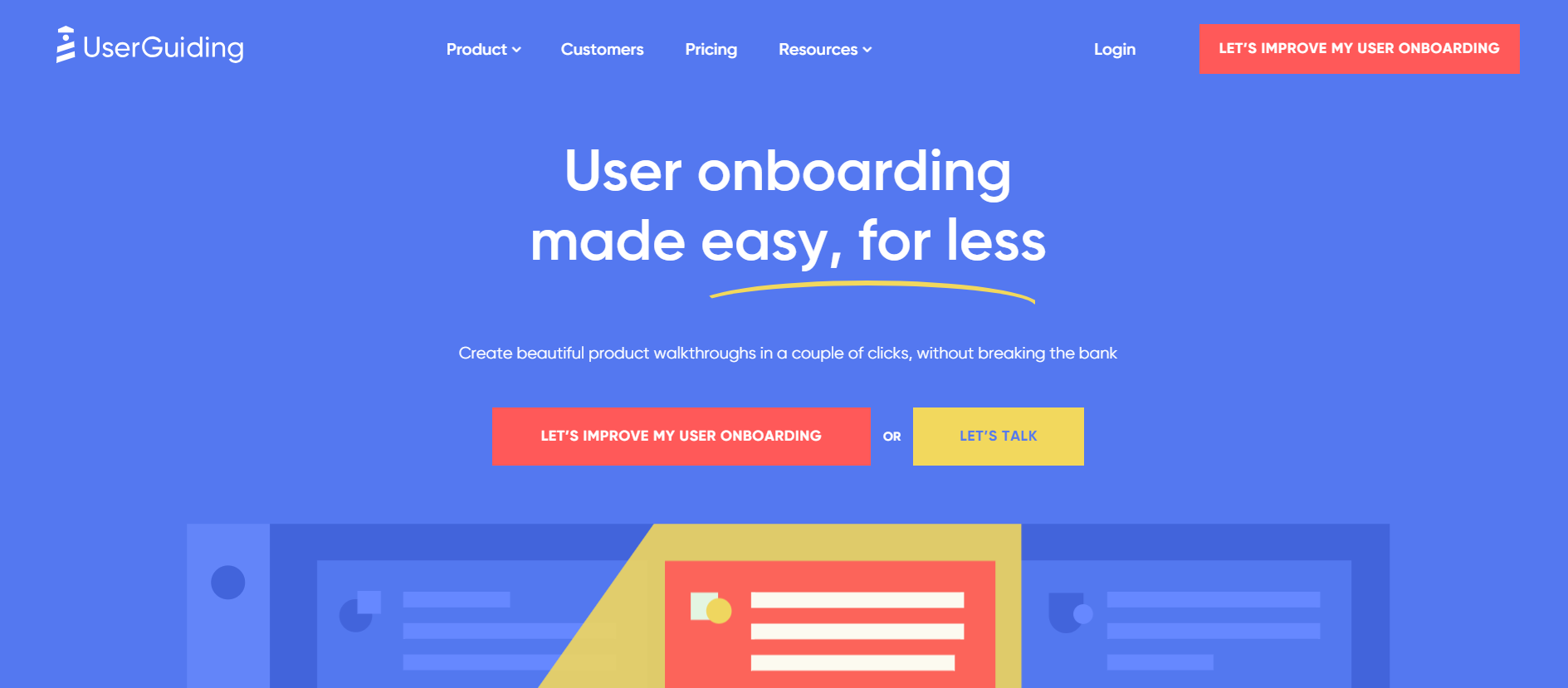 UserGuiding is a robust self-serve user onboarding tool that facilitates the creation of self-guided and automated training courses and interactive guides. It eliminates the need for coding, making it easy to deliver the right product experience to users at the appropriate stage of their lifecycle. The platform offers features like resource centers, customer onboarding checklists, and interactive product walkthroughs.
5) Litmos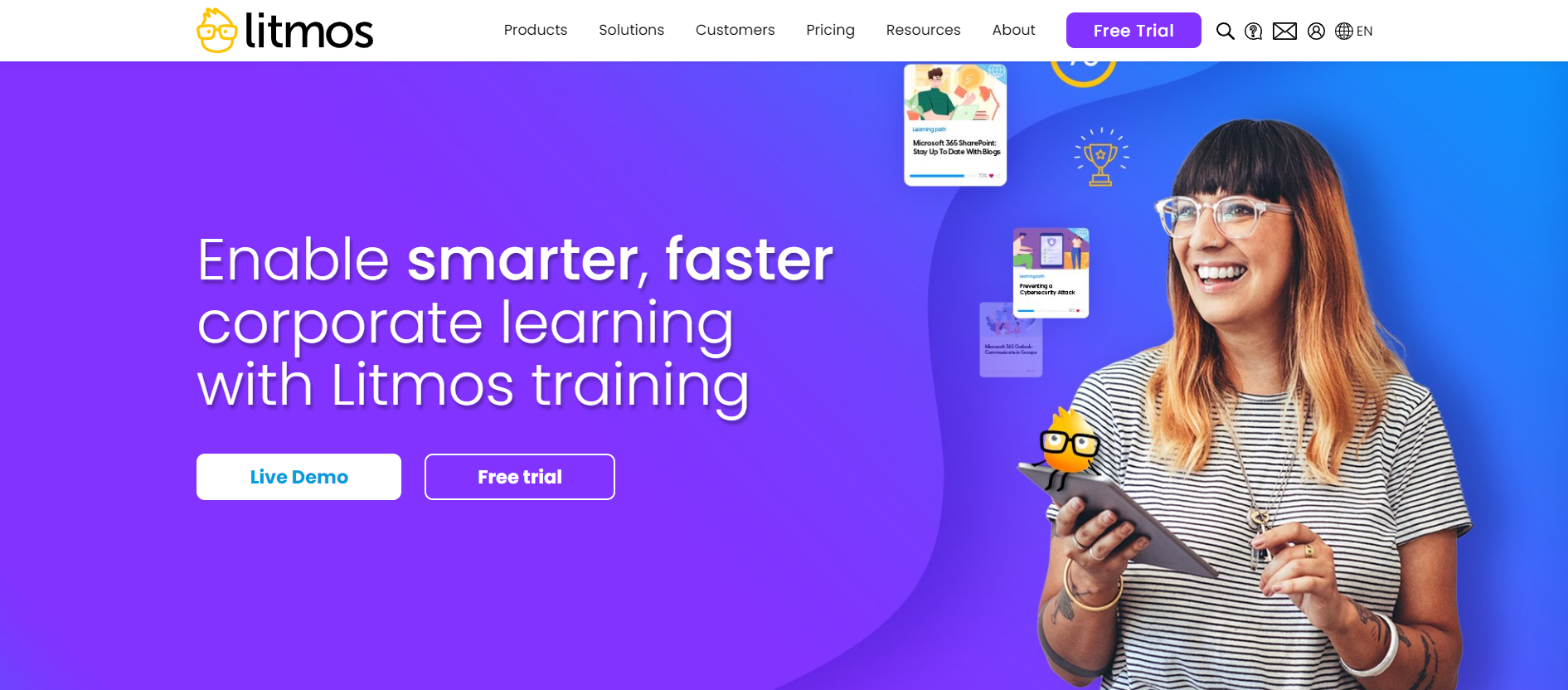 Litmos is a versatile customer training software that allows customers to access learning content anytime, anywhere, and on any device. With powerful tracking features and the ability to gather customer feedback, Litmos helps identify areas for improvement and enhances the customer learning experience. It offers features like online course builders, video assessments, and multi-lingual support.
6) Whatfix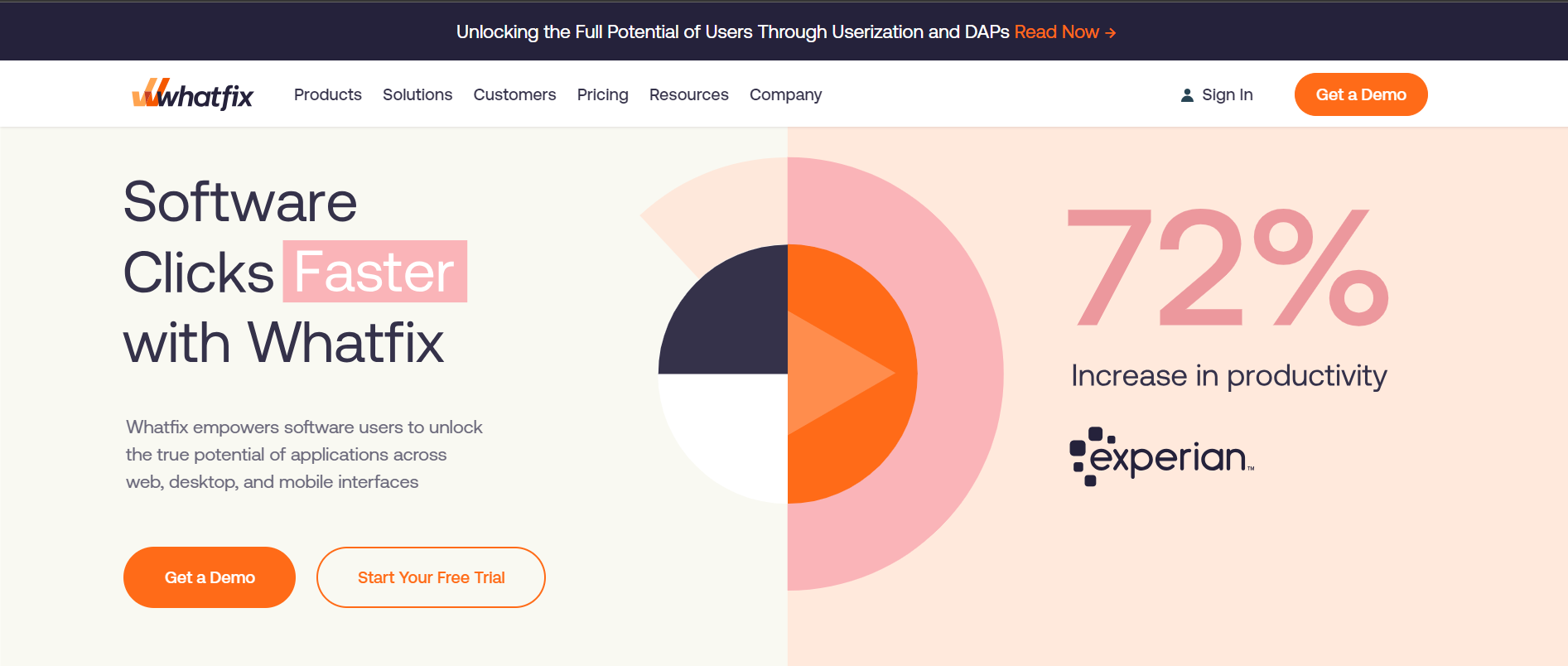 Whatfix is a Digital Adoption Platform (DAP) that enables the creation of step-by-step customer training programs and process automation. By highlighting key product features, Whatfix drives better engagement and user adoption. The platform provides various display options, including task lists, self-help widgets, guided popups, and clever tips. It allows targeting of guides to specific customer segments.
7) Docebo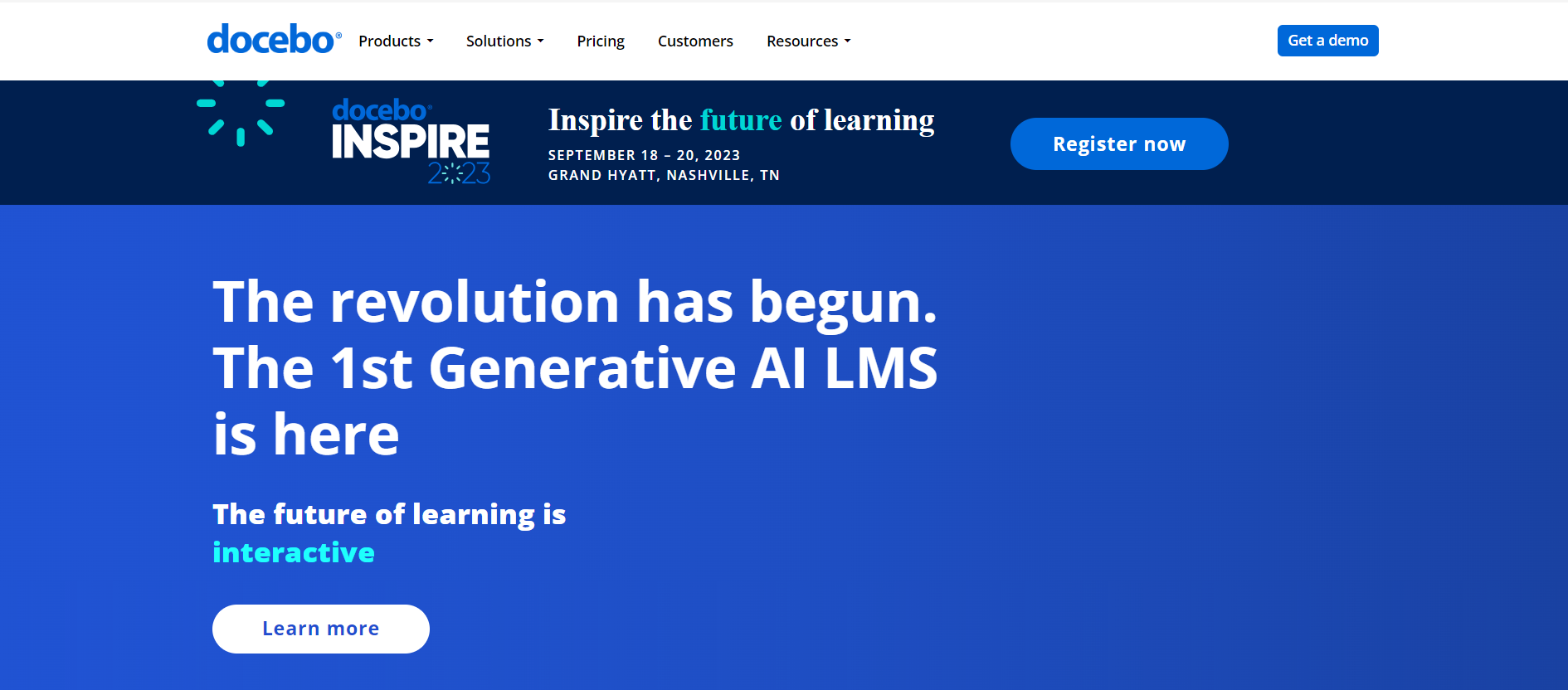 Docebo is a robust eLearning platform that offers ready-to-use and scalable solutions for creating highly engaging customer training. It enables the incorporation of interactive training materials, gamification, and webinars to enhance customer engagement. With personalized eLearning content, Docebo ensures a superior customer experience, and custom branding options allow for a personalized training platform.
8) iSpring Learn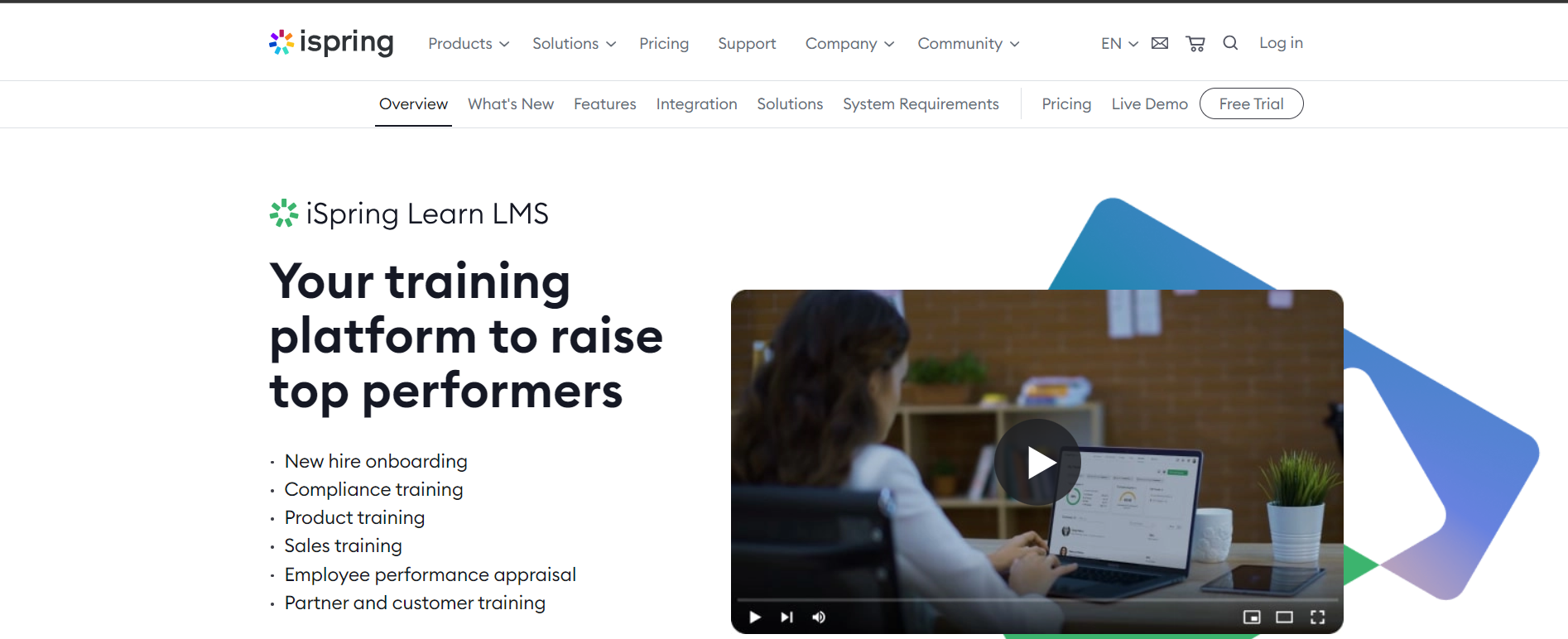 iSpring Learn is a versatile tool designed for product training and customer onboarding. It offers features for content creation, onboarding, upskilling, automation, measurement, and scalability. The platform allows the development of engaging training courses, assessments, and video lessons without any coding skills. Detailed reports provide insights into the progress of the training program.
9) Adobe Learning Manager
Adobe Learning Manager is a customer training software that enables the creation of personalized learning experiences integrated with websites or apps. It offers capabilities to boost customer engagement and retention, such as self-service portals, personalized dashboards, guided journeys, and AI-driven content recommendations. Social learning and gamification features can also be integrated.
10) 360Learning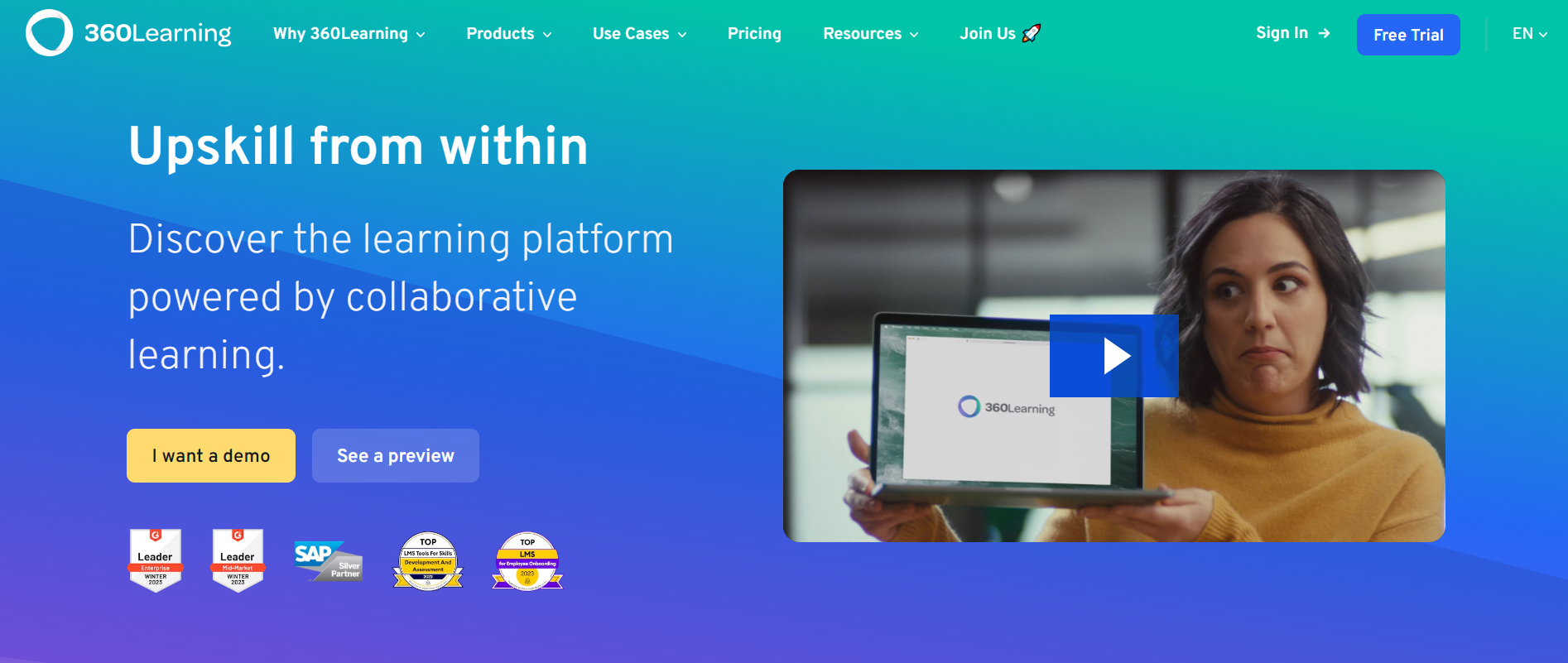 360Learning is a powerful customer training software that allows for the rapid development of custom learning content. It offers customizable academies with custom cover images and training descriptions to attract more customers and improve engagement. Effective content management and user registration options enhance the learning experience. During the free trial period, up to 100 users can be added per month.
Conclusion
These top 10 customer training software options provide efficient ways to create high-quality eLearning courses and improve customer engagement. Many of these tools offer free trial periods, allowing users to explore their features before making a decision.
Choose the software that best suits your training needs and start building captivating educational content. Remember to consider your specific requirements and preferences when selecting the ideal customer training software for your company.