If you're like the majority of individuals, chances are you have an overwhelming number of tabs open in your Chrome browser, attempting to tackle multiple tasks simultaneously.
While certain tasks can be performed using keyboard shortcuts, there are certain actions that require additional browser functionalities. Regrettably, Chrome alone is incapable of fulfilling all your needs.
This is where Chrome extensions come into play.
Within this article, you will explore seven remarkable Google Chrome extensions that have the potential to revolutionize your workflow. Discover the advantages, disadvantages, and current pricing of each tool featured in this curated list.
Let's commence our exploration.
Chrome extension designed for capturing screens to create documentation.
Supademo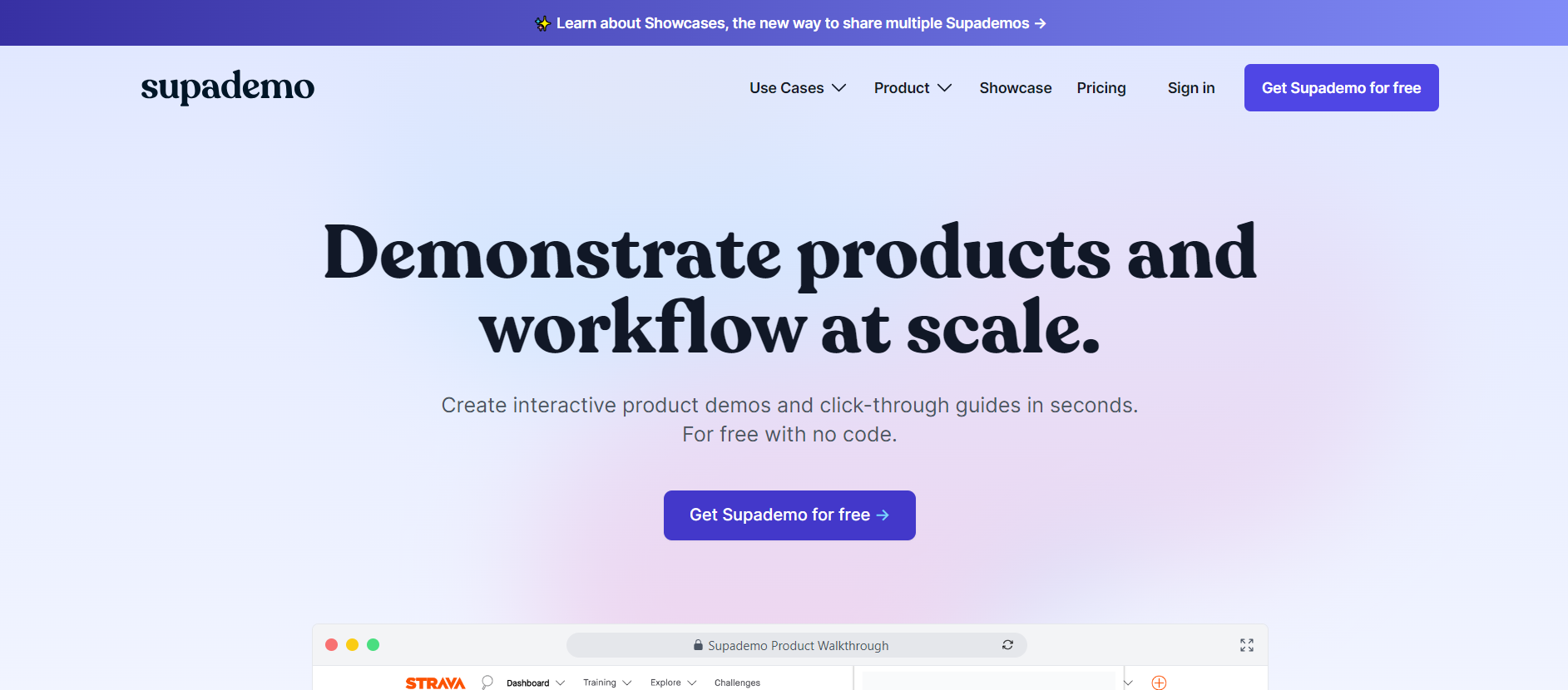 Ideal for: Creating and sharing interactive demos, product walkthroughs, and guides.
Supademo is a game-changing platform that leverages AI technology to empower businesses and professionals in showcasing their products and workflows effectively. By automating the process, Supademo simplifies the creation of step-by-step guides, tutorials, playbooks, and more.
Supademo's primary function is to capture workflows effortlessly and transform them into easily editable and digestible interactive demos. It enables you to document business processes, generate SOPs, and establish comprehensive knowledge bases for your employees and teammates. Whether it's training materials, product walkthroughs, or help documentation, Supademo has got you covered.
Key features/benefits
Here are the remarkable features that Supademo offers, revolutionizing the way professionals create interactive demos and guides to drive education forward within businesses:
i) Fast Workflow Creation
Supademo provides a Chrome Extension that allows you to capture images and entire workflows, seamlessly arranging them into a single editable document. You have the flexibility to resize screenshots, add annotations, highlight specific areas with arrows or boxes, blur sensitive information, include descriptive or action-driven text, and perform various editing actions.
All the captured and edited steps are automatically compiled into a cohesive "Workflow" document. You can add titles, subtitles, and descriptive text to guide your target audience through the process, ensuring their comprehension.
ii) Advanced Automation
Supademo's advanced automation technology analyzes the steps you take during the workflow capture process and the edits you make. This feature automatically crops images and zooms in on specific sections you modified, making them stand out. It simplifies the reader's experience by emphasizing essential elements, eliminating confusion, and allowing focused attention.
iii) Storage and Collaboration
Supademo ensures your workflows are securely stored and easily accessible. Every document you create is saved within your account on the platform. You can effortlessly access, edit, and download updated versions of your Workflows whenever necessary. Additionally, Supademo offers Workspaces for Teams, enabling collaborative editing and sharing. Similar to Google Docs, you can invite team members, assign roles, and collaborate seamlessly on documentation.
iv) Versatile Sharing Options
Once you've finished editing your Workflow creation, Supademo generates a shareable link for effortless distribution. Moreover, you can utilize the convenient copy feature to seamlessly transfer Workflows to HTML-supported platforms like Google Docs, Notion and more.
Pros
Quick and straightforward installation
Time and resource-saving for SOPs, training guides, and business documentation
Automatic generation of screenshots, step-by-step instructions, and interactive guides
Provides a broader range of features compared to typical screen capture tools
Customizable text and images
User-friendly and cost-effective
Enables rapid creation of workflow instructions and interactive guides
Utilizes AI technology to enhance your creations
Effortless one-click sharing
Facilitates collaboration among team members
Cons
Not compatible with incorporating gifs or videos in guides
Pricing
Supademo offers a Free plan that includes the following features:
Up to 5 demos
Full editing capabilities
Initial demo overlay
Share as link or embed
Supademo branding
Analytics
Automatic text annotations
Supademo also offers a Pro plan. It costs $24 per month and includes the following features:
Up to 50 demos
Full editing capabilities
Custom branding
Analytics
Automatic text annotations
Chrome extension designed for time tracking

StayFocusd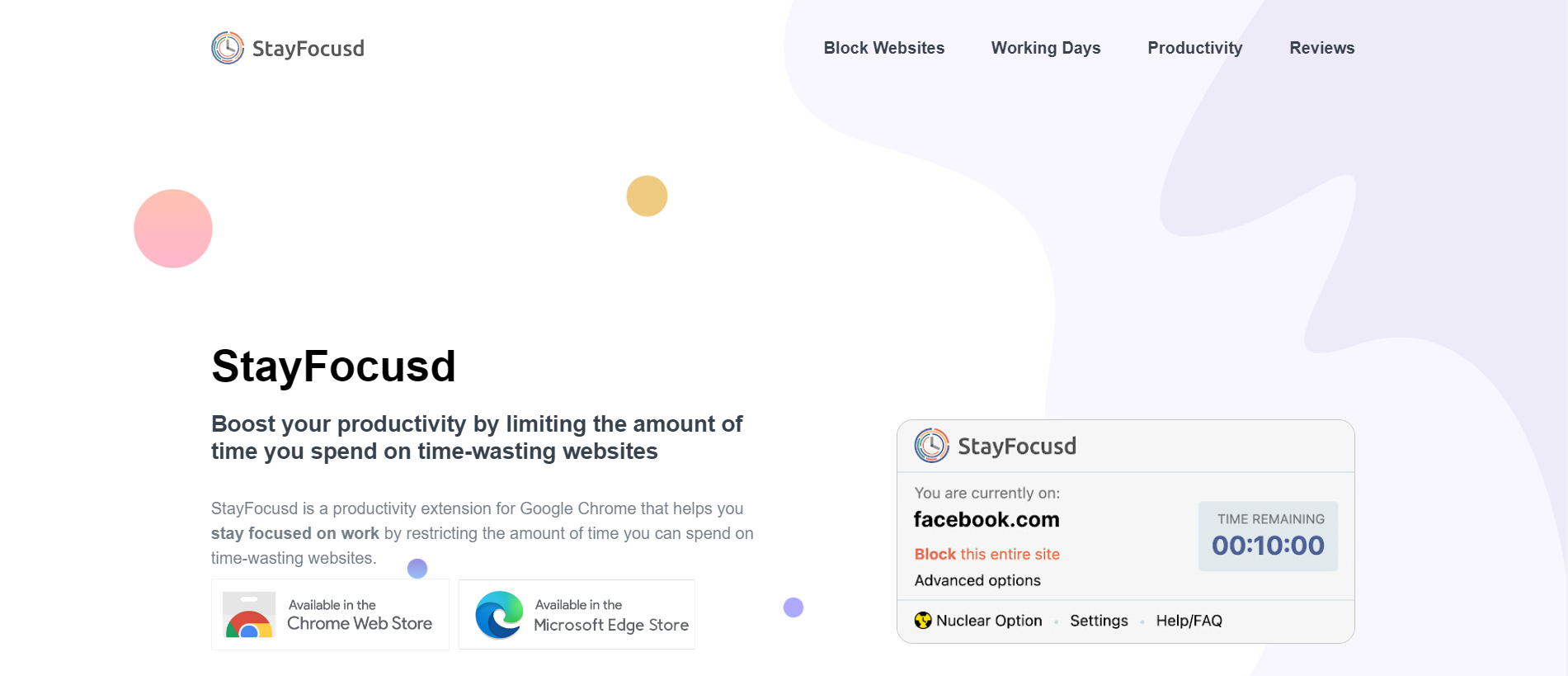 Ideal for: Enhancing focus and boosting productivity.
StayFocusd is a Chrome extension that aims to improve focus and increase productivity by effectively managing time spent on unproductive websites. This powerful tool recognizes the difference between productive computer usage and time wasted on distracting online platforms.
If you often find yourself getting caught up in unproductive websites instead of focusing on important tasks, StayFocusd is an invaluable solution. This extension allows you to identify and target specific websites that tend to distract you, such as social media platforms and gaming sites. You have the flexibility to set a daily time limit for these sites, after which StayFocusd will automatically block access to them until the next day.
Pros:
Highly customizable settings to suit your preferences.
Prevents distractions and helps maintain focus.
Blocks entire sites, specific subdomains, paths, pages, and even in-page content like videos, games, images, and forms.
Implements barriers before granting access to blocked sites, increasing self-control.
Displays the remaining allocated time when attempting to access a blocked app or website.
Completely free to use, no charges or credit card required.
Cons:
Timer resets if Chrome is relaunched, requiring manual adjustment.
Occasional confusion between AM and PM settings in the timer.
May unintentionally block unrelated websites, requiring adjustments to the settings.
Pricing:
StayFocusd offers all of its features for free, without any subscription or credit card requirements.
Toggl Track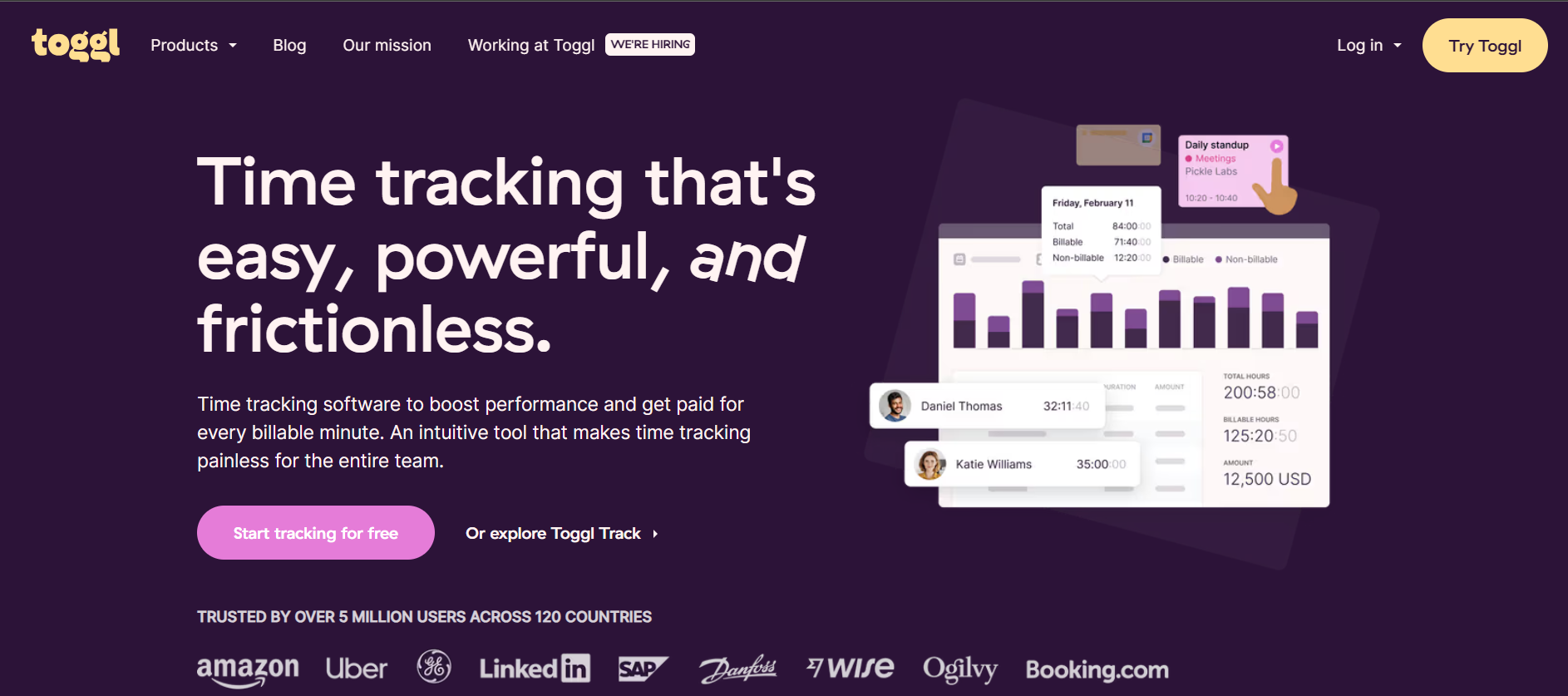 Ideal for: Monitoring task duration
Toggl Track is a versatile time tracking software, is a valuable tool for accurately monitoring the time you spend on various tasks. With its convenient Google Chrome extension, you can effectively manage your time and enhance productivity. Simply click on the extension's button, specify the activity you're engaged in, and Toggl Track will initiate a timer within your browser.
By referring to the extension, you can easily track the time spent on each activity. This knowledge empowers you to efficiently manage your tasks and provides the motivation needed to perform them effectively. Toggl Track is the ideal solution for all your time management needs.
Pros:
Effortless installation process.
One-click timer initiation for quick and easy tracking.
Seamless integration with other productivity applications.
Access to comprehensive reports and analytics.
Organize time management with projects, tags, and descriptions.
Cons:
Occasional annoyance from reminders.
Some confusion with reporting functions.
Slightly cumbersome process for adding new projects.
Pricing: The Toggl Track Chrome extension is available for free, providing access to most of its features. Additionally, they offer a Starter plan priced at $10 and a Premium plan priced at $20, with enhanced functionality and additional benefits.
Password management and security Chrome extensions.

LastPass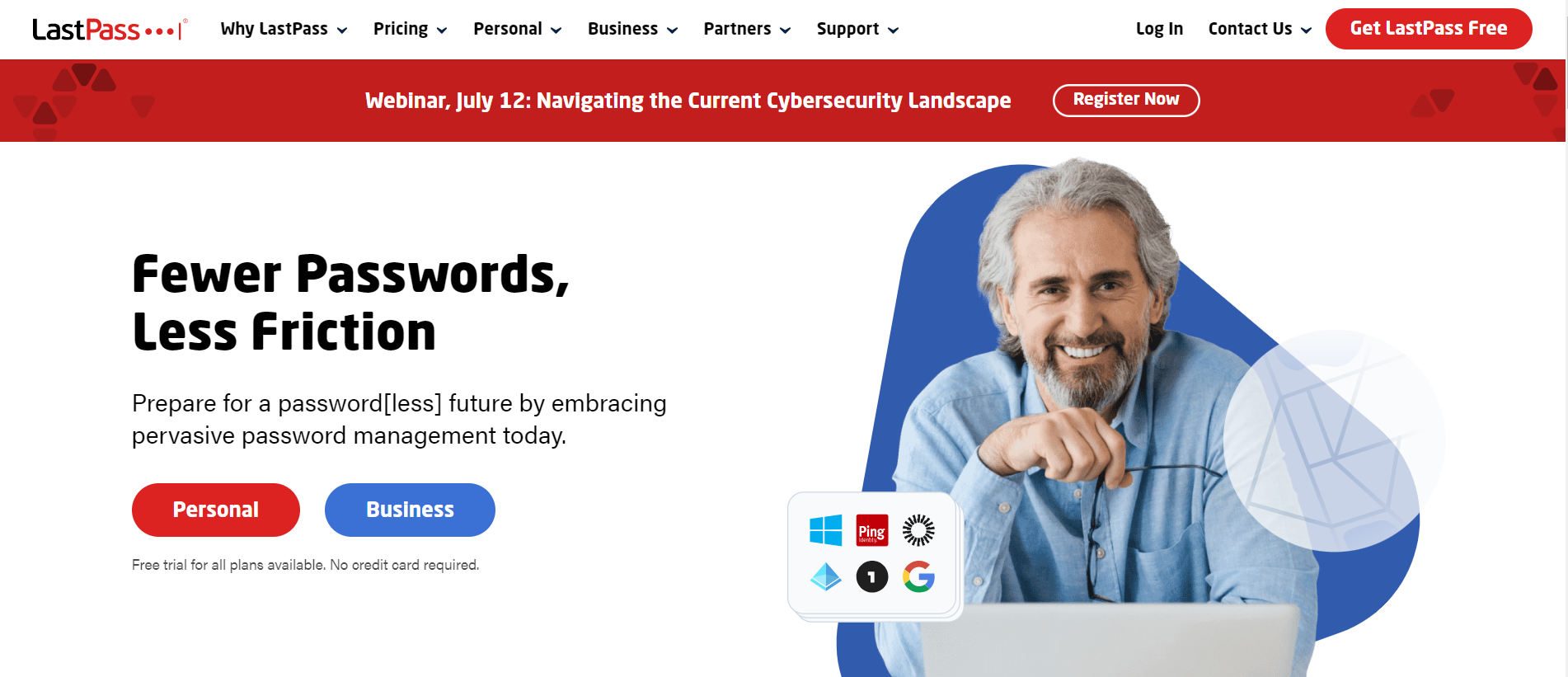 Ideal for: Enhancing Password Security and Personal Information Management
LastPass is a reliable solution designed to safeguard your passwords and personal information. By utilizing a secure vault, LastPass effectively stores crucial data, such as passwords, addresses, credit cards, and more. With the LastPass extension installed, accessing and managing this information becomes effortless. This article explores the features, advantages, disadvantages, pricing, and user reviews of LastPass.
Features and Functionality: LastPass serves as an award-winning password manager that ensures the security of various personal details. By creating a master password, users gain exclusive access to their vault, eliminating the need to remember multiple passwords. Furthermore, LastPass offers robust security measures and encryption protocols, generating strong passwords to replace weaker ones. Additionally, the tool provides insights into the identification of weak or reused passwords, enabling users to enhance their overall security.
Pros:
Efficient password management: LastPass streamlines the management of passwords across different platforms.
Comprehensive personal information security: The tool protects various types of personal information, ensuring privacy.
Simplified authentication: With a single master password, users can conveniently authenticate their access to the vault.
Strong security and encryption: LastPass employs a reliable framework to safeguard sensitive data.
Seamless auto-fill feature: Passwords are automatically filled in when accessing websites, eliminating the need for manual entry.
Multi-device availability: LastPass is accessible across various devices, ensuring consistent usage and convenience.
Cons:
Comparatively high cost: LastPass may be considered expensive when compared to alternative tools on the market.
Inadequate customer support: Some users have reported subpar customer support experiences.
Pricing: LastPass offers a free version with basic features. However, advanced functionality is available through subscription plans. The pricing structure is as follows:
Individual users: $3 per month (billed annually)
Families and teams: $4 per month (billed annually)
Businesses: $6 per month (billed annually)
HTTPS Everywhere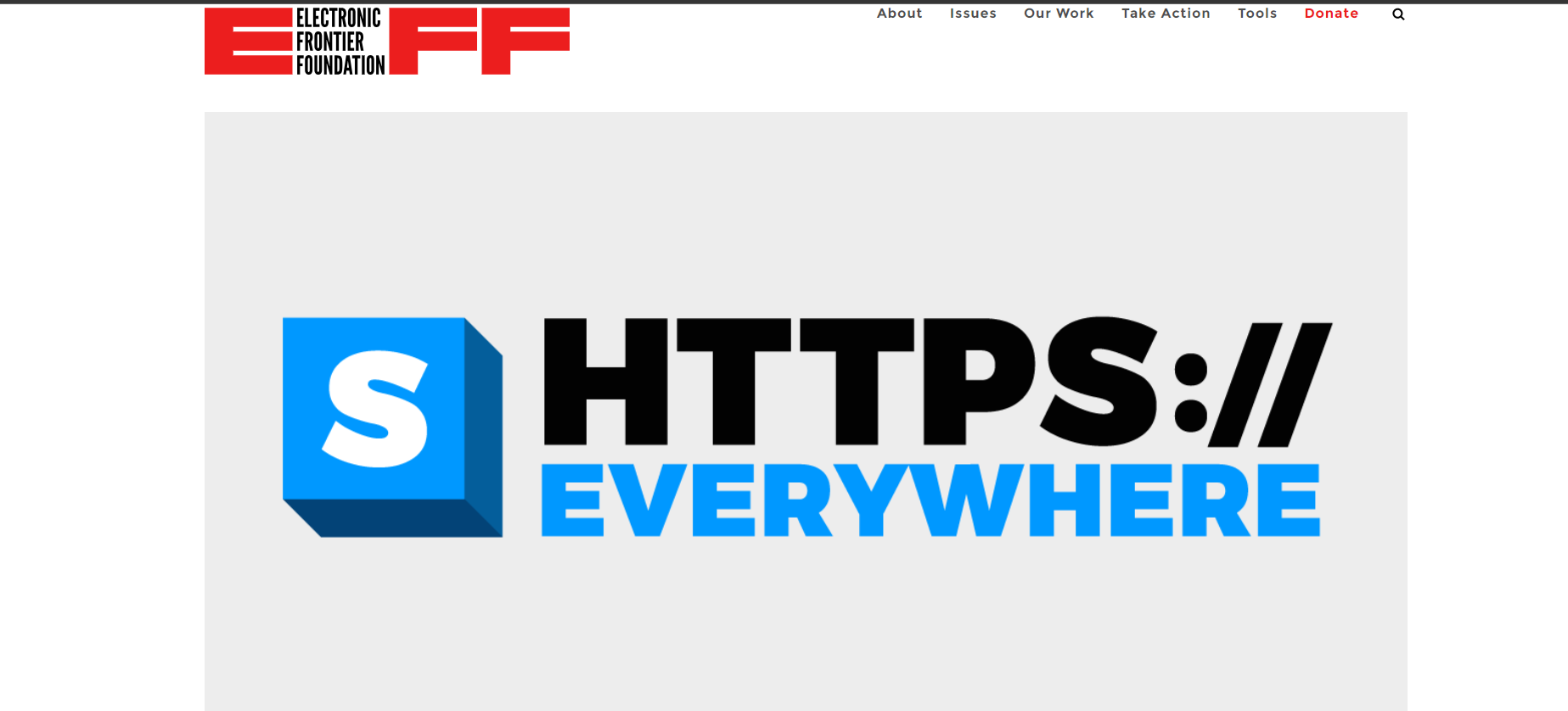 Ideal for: Ensuring Secure and Reliable Web Browsing
HTTPS Everywhere is a valuable extension that prioritizes the safety and quality of your online browsing experience. By implementing this website protocol, users can navigate the web securely while avoiding potentially malicious sites. This article delves into the features, advantages, disadvantages, and pricing of HTTPS Everywhere, highlighting its significance in enhancing online security.
Features and Functionality:
HTTPS Everywhere serves as a crucial tool that ensures secure browsing by verifying the security of visited websites. By encrypting and securing your browser, this extension safeguards your online activities. Whenever you access a website in Chrome, HTTPS Everywhere automatically rewrites your request, directing you to a secure version of the site.
Importance of HTTPS Everywhere:
While the HTTPS prefix is commonly found in URLs, it does not guarantee complete security. Hence, utilizing a tool like HTTPS Everywhere is highly recommended. This extension provides an additional layer of protection against personal data leakage and shields your computer from online malware threats. With HTTPS Everywhere, you can browse the web with confidence, knowing that your online interactions are safeguarded.
Pros:
Prevention of personal data leakage: HTTPS Everywhere protects sensitive information from being exposed.
Defense against online malware: The extension safeguards your computer from potential threats while browsing.
Enhanced browsing assurance: HTTPS Everywhere ensures that your interactions with websites are secure and reliable.
Cons:
Possible website display issues: Some websites may appear distorted or break when using HTTPS Everywhere.
Ongoing beta version: The extension is still in the beta phase, undergoing continuous improvements and updates.
Pricing:
HTTPS Everywhere is entirely free to use, allowing users to benefit from its security features without any additional costs.
Chrome Extensions for boosting Blogging productivity
Grammarly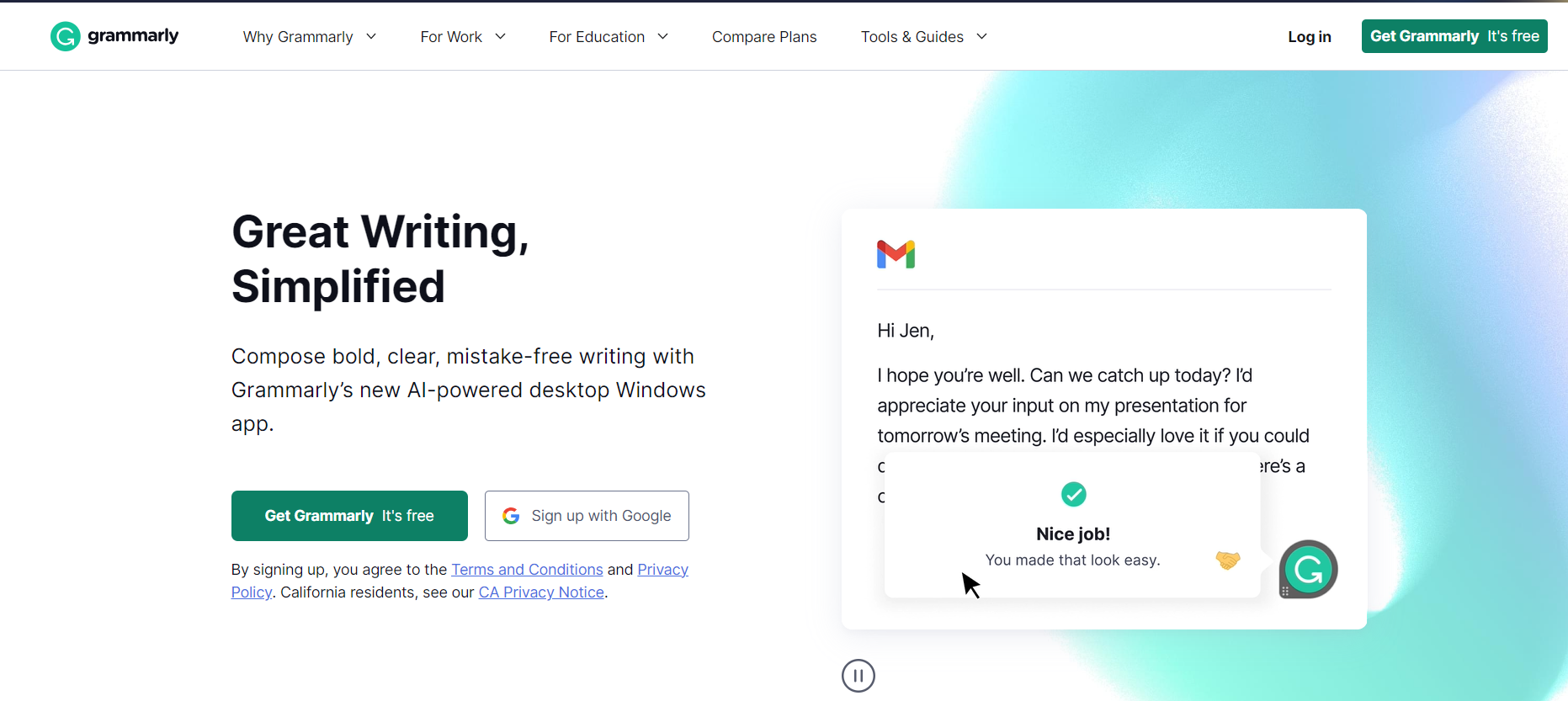 Ideal for: Enhancing Writing Accuracy and Clarity
Grammarly, a powerful AI program, is designed to assist users in producing error-free content and messages. This article explores the features, advantages, disadvantages, pricing, and functionality of Grammarly. With its ability to detect and correct spelling and grammatical errors, provide vocabulary suggestions, and improve writing style, Grammarly proves to be an indispensable tool for enhancing written communication.
Features and Functionality:
Grammarly employs artificial intelligence to identify and rectify spelling and grammatical errors, elevating the quality of your writing. It goes beyond error detection by offering suggestions to enhance vocabulary and writing style. For instance, Grammarly can highlight sentences written in the passive voice and propose converting them to the active voice. It also provides recommendations for sentence length reduction, eliminating unnecessary words, improving content formatting and structure, reordering sentences for better coherence, and more.
Ease of Use:
By simply installing the Grammarly Chrome extension, users can benefit from real-time error correction and editing suggestions. Whenever you write, Grammarly appears to assist in rectifying mistakes and offering improvements.
Pros:
Error-free writing: Grammarly ensures that your content and messages are free from errors.
Professional editing assistance: The program operates like a personal editor, enhancing the overall quality of your writing.
Spelling mistake prevention: Write with confidence, knowing that Grammarly helps you avoid spelling errors.
Instant word definitions and explanations: Double-clicking on words provides pop-up definitions and explanations, facilitating a deeper understanding of vocabulary.
Conciseness and readability suggestions: Grammarly offers recommendations to improve the clarity and readability of your writing.
Plagiarism checking: The tool includes a plagiarism checker to ensure the originality of your content.
Customizable tone and goals: Users can set desired tones and goals to receive tailored recommendations.
Language variety: Grammarly supports British, American, Australian, and Canadian English.
Cons:
Google Docs compatibility issues: The Google Docs version of Grammarly may encounter occasional glitches.
Suggestion insertion problems: In some cases, the tool may not accurately insert accepted or ignored suggestions.
Performance with lengthy documents: Grammarly's effectiveness can decrease when working with lengthy documents.
Pricing:
Grammarly offers a free version that provides basic error correction and improvement features. Premium plans start at $12 per month for individuals, unlocking advanced functionalities and comprehensive writing analysis.
WordTune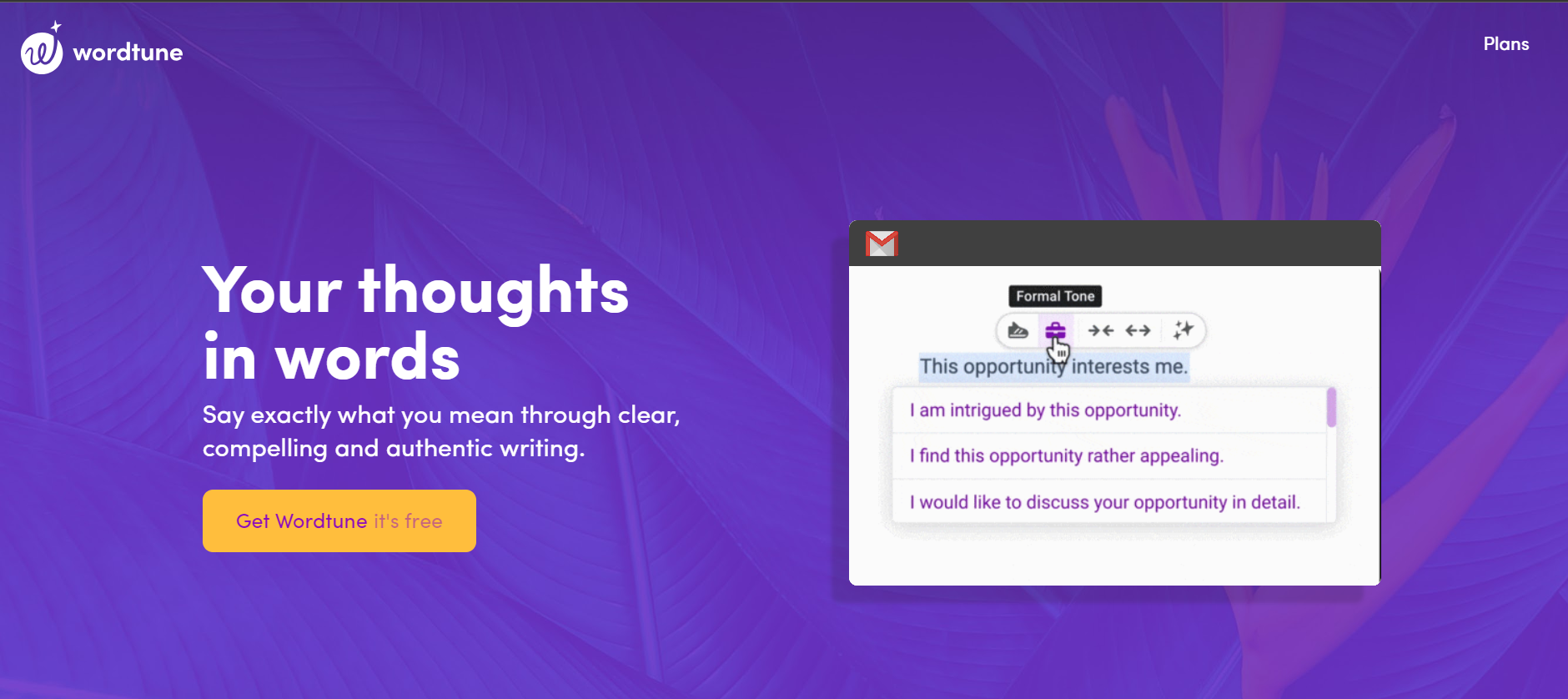 Ideal for: Rewriting and paraphrasing sentences.
WordTune's Chrome extension works the same way as the Grammarly extension. All you need to do is install the Chrome extension, and every time you write, you'll see the application underline words and suggest edits.
Even though WordTune allows you to avoid mistakes and get edits like Grammarly, it is much more focused on intelligent word choice and paraphrasing. Whenever you select content to edit, you'll see the WordTune logo appear, and you just have to click to see suggestions.
The extension will show you rewrites for your sentence. You can expand the size of the original sentence or reduce it or paraphrase it. WordTune works with any text editor, including Google Docs, Outlook, or any other tool you may use. Just highlight the sentence or phrase you wish to rewrite, and WordTune provides several options.
Pros:
Easy to install and use.
Write error-free and vocabulary-rich messages and content.
Write with confidence.
Get grammar and spelling corrections.
Make brilliant vocabulary choices.
Choose the perfect tone to match your subject matter.
Translate and rewrite simultaneously.
Reduce or expand your sentences.
Cons:
Bugs sometimes on Google Docs.
Pricing
There is a free plan, but it only allocates 20 rewrite credits per day. The premium plan costs $9.99 per month (billed as $119.88 a year) and gives you access to all features and unlimited rewrites.
Craft Your Chrome Extension Arsenal with the Appropriate Tools
Certainly, there are numerous Chrome extension tools available beyond the ones mentioned in this article. The objective is to discover and install tools that truly enhance your work processes and productivity. It is crucial not to simply install an extension based on someone's recommendation; instead, evaluate the value it offers before considering its installation.
However, if you're seeking a screen capture Chrome extension to create outstanding SOPs (Standard Operating Procedures) and elevate productivity for both you and your team, Supademo is the ideal tool for your needs!