The 6-Step Checklist for Successfully Launching on Product Hunt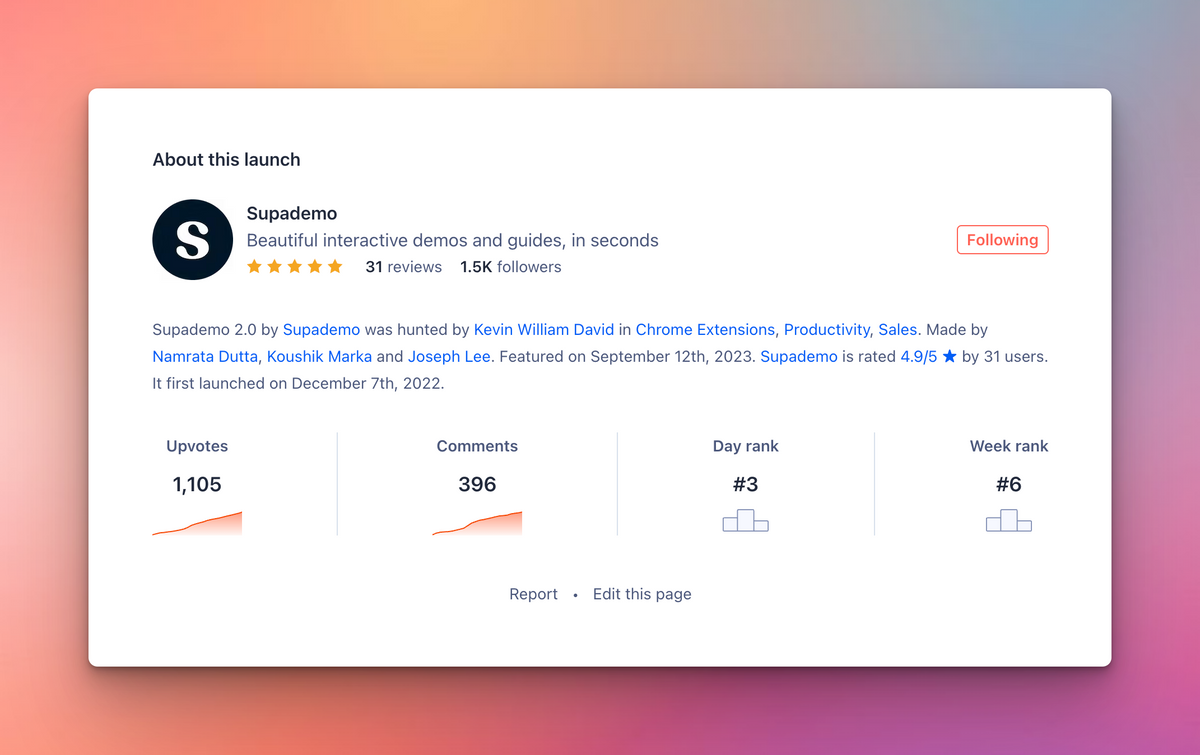 Since our recent launch on Product Hunt, I've received a ton of messages like these from fellow founders and operators:

Although there are already a ton of resources out there on how to effectively launch on Product Hunt, every industry, business model, and company can have a different approach - along with varying learnings and outcomes.
In an effort to open-source Supademo's own Product Hunt launch strategy, here is a clear breakdown of what we did to prepare for and execute our launch.
Hopefully, it's a helpful guide to founders and operators looking to launch soon.
---
Step 1: Establish a clear goal 🎯
The first tip is to have a clear goal of what you want to achieve with your Product Hunt launch. Is it 100 new users? Is it MRR growth? Getting the attention of investors? Getting a Product of the Day badge for your website? Or is it just for fun?
There's nothing worse than putting a ton of time into your launch, only to not know whether the effort was worthwhile. In order to avoid wasted time and effort, have a crystal clear goal of what you want to achieve. This will inform your level of preparation, which channels to target, or even which day you want to launch.
For instance, launching on the weekend will be the easiest path to finishing 1st (Product of the Day), but you'll have fewer visitors and likely a different audience (i.e. more Indie Hackers vs. SaaS employees).
Supademo's Product Hunt goals
Finish as Product of the Day
Minimum of 800 Upvotes (which we realized was too low!)
300 new signups, who would bring in other users by sharing Supademos
At least 10 paying customers directly from Product Hunt
Backlinks and coverage from Product Hunt and affiliated websites
Push ourselves to ship more quickly to include our launch features within the proposed timeline
---
Step 2: Hunt down your launch date and Hunter 🎣
Once you have a clear goal in mind, it's time to establish your timelines. Narrow down to whether you want to launch on a weekday or weekend. Generally speaking:
Launch on weekends if
Your priority is to become a top 3 product of the day
If you already have a good community around your product
Are targeting indie hackers, consumers, or casual audiences
Launch on weekdays if
You want to create a community around your product
You want to gain new paying customers
You want your product to be mentioned/amplified in the Product Hunt newsletter
Weekends are easier to rank higher as there is less competition - but they typically have less user engagement and activity. Weekdays come with much more competition - and there's no guarantee that you'll rank in the top 10. Success very much depends on who else launches on the same day.
Finally, keep in mind that if you rank among the top 10 of the day, you'll be featured in Product Hunt's newsletter, which will amplify your launch to a bigger audience. Launches from the weekend are also grouped into one email on Monday, meaning your impact might be diluted.
Next, you need to choose a Hunter. While finding a well-known Hunter isn't a requirement (in fact, you can both build and hunt your own product), it's generally accepted that a known Hunter will amplify your product distribution and success. Why? Your Hunter will come with an existing pool of followers, helping you hit the ground running - and also serve as social proof during launch: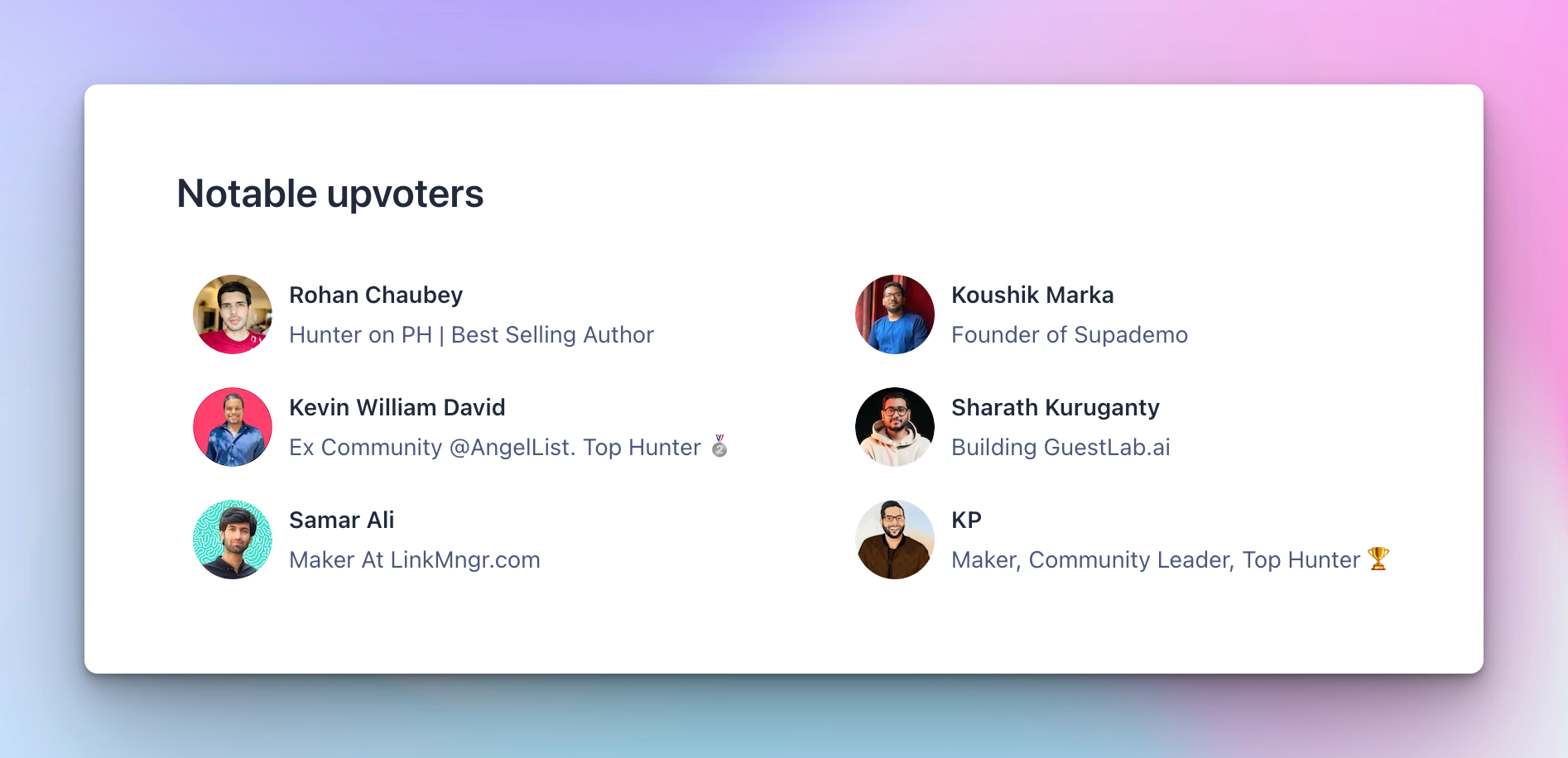 If you don't have a specific Hunter in mind, we recommend that you check out this leaderboard of Product Hunt's most active Hunters, or look through the list of recent launches.
Once you've reached out, simply pitch them on why they should support your launch!
---
Step 3: Create a "Coming Soon" page 🔜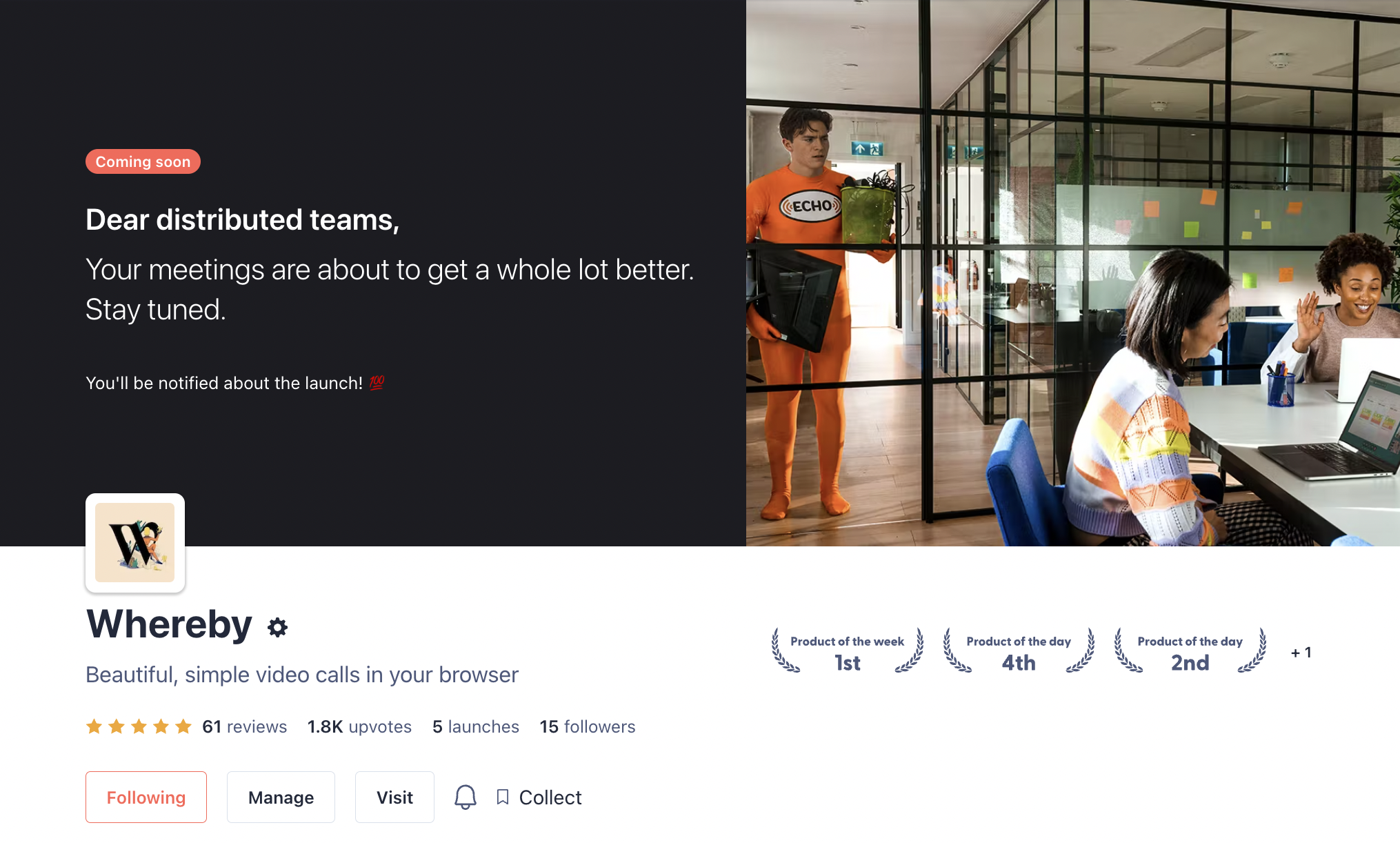 Next, you'll want to create a "Coming Soon" page on Product Hunt to funnel leads towards your upcoming launch.
On Product Hunt
Create an engaging "Coming Soon" page on Product Hunt with a teaser for your product. This page helps generate organic buzz and drive visitors to a page with clear intent.
For the next 14 days, link this "Coming Soon" page on your:
Email signatures
Websites header
Blog posts callouts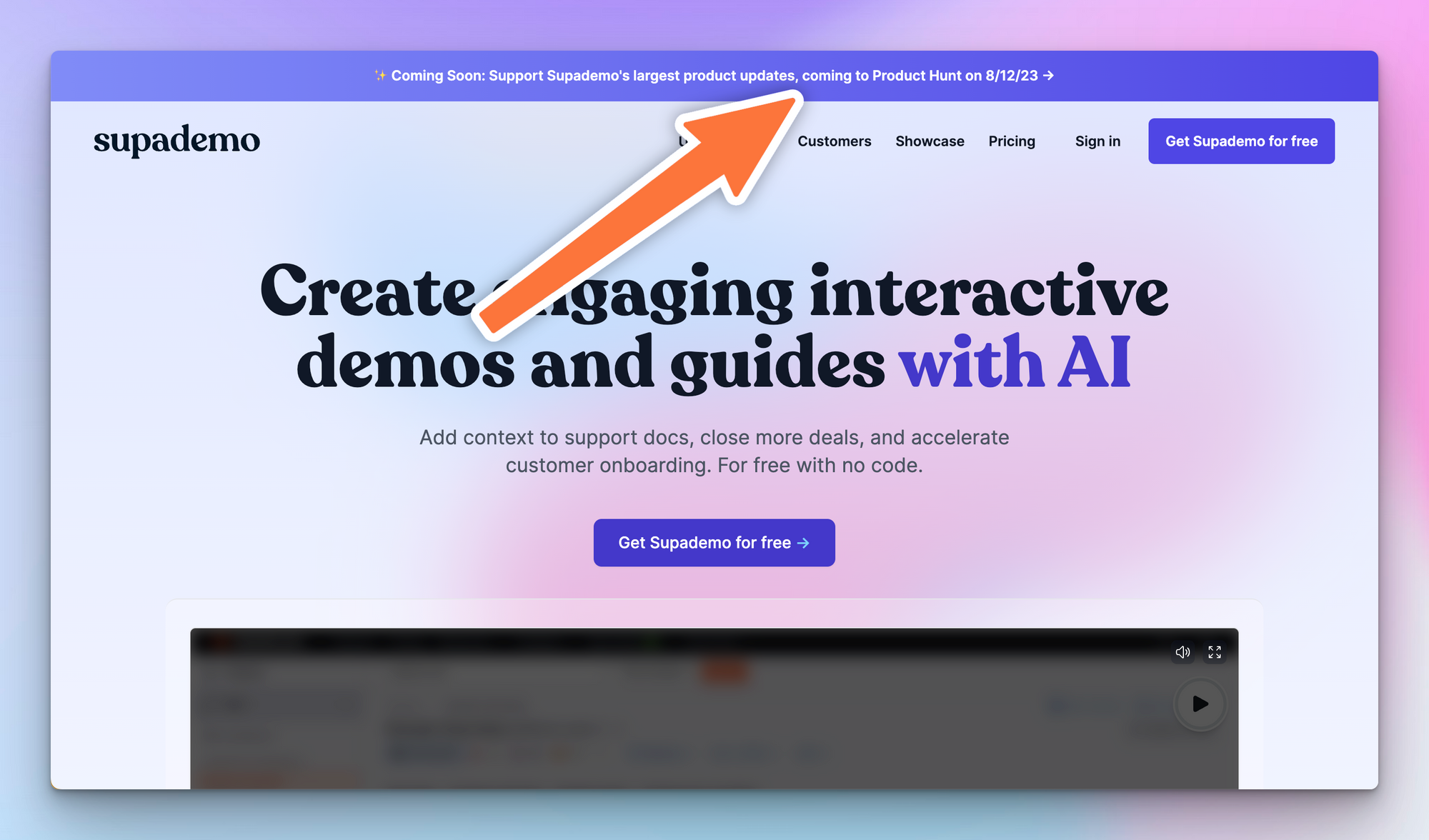 As visitors subscribe to be notified, you will dramatically increase surface area for getting their attention on launch day.
---
Step 4: Identify and build your distribution 🔍
The next step is to identify your existing distribution channels to approximate how many upvotes you can expect from your existing audience.
In 2023, most "Product of the Day" winners ended up with 1000+ upvotes, so that's the minimum floor you should be aiming for if that is the ultimate goal.
From there, you want to identify all of your existing audience channels, potential support sources, and the effort/work required for you to hit your benchmark for each source.
Here's an example: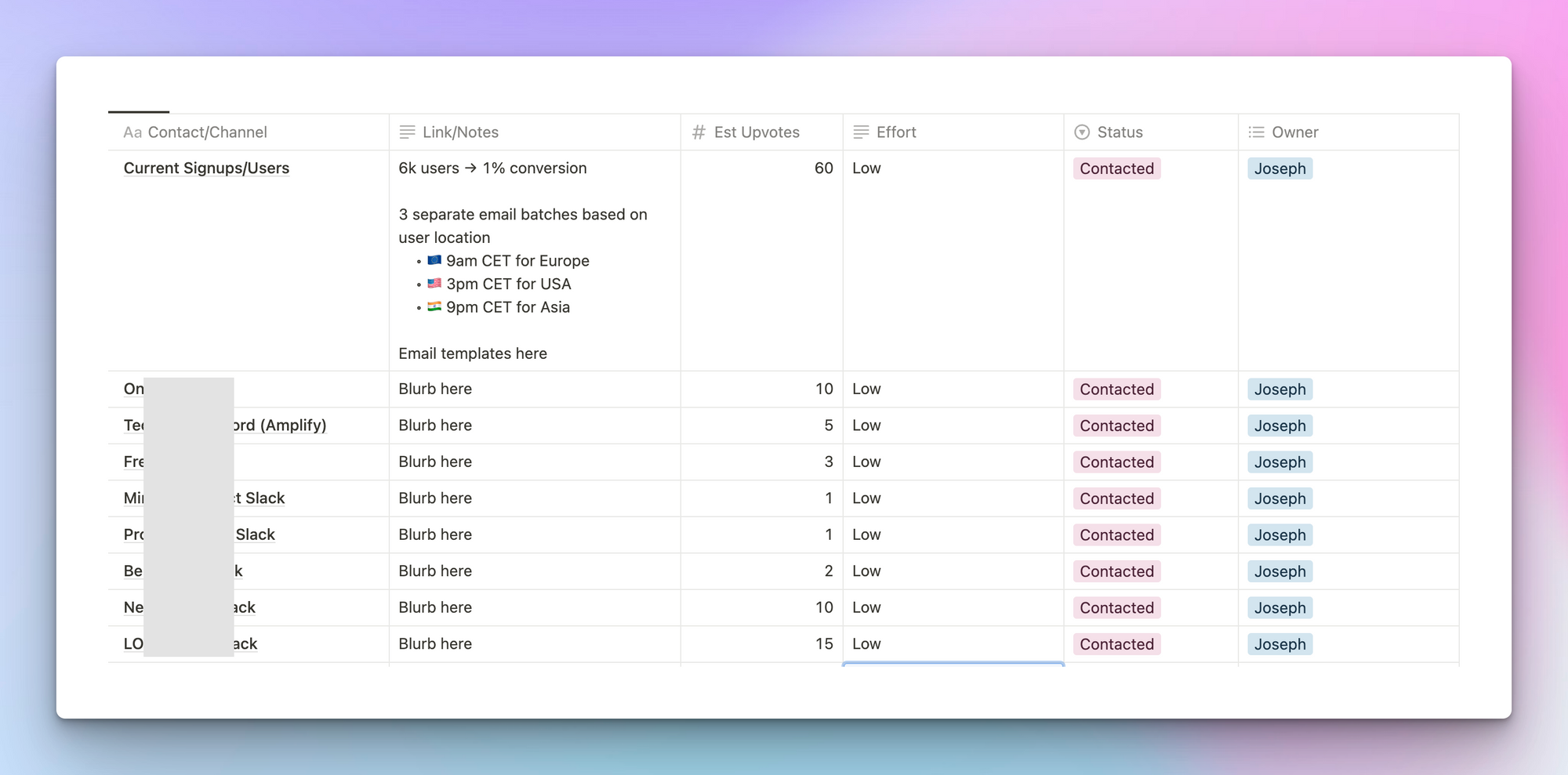 After tallying up your estimates, you should have a clear tally of expected upvotes as well as the upvote gap you'll need to fill.
To solve the latter, you can deploy strategies like:
Posting thought leadership/value and plugging your launch link;
Looking for similar products on PH and reaching out to the makers for support/feedback;
Joining relevant Slack groups or communities and contributing;
Scanning keywords or conversations on Twitter about similar products;
Replying to relevant questions on Reddit, Quora, or IndieHackers with a link to your launch;
Reaching out to folks that commented/upvoted to winning products, and asking for feedback;
WhatsApp groups like ProductHunters
If you already have an audience of users and customers, leverage them. They'll likely be the most vocal and willing to support you.
While being a megaphone and spreading the word about your launch can seem cringe and spammy, it's almost a pre-requisite to a successful launch.
---
Step 5: Prep tactics for Launch Day 🚀
Prep your Calendar
First of all, clear your calendar for launch day and for a day after launch. A good launch will get you lots of exposure, support questions and feedback. You'll want to make sure you have the time to exploit your launch.
Next, use your Calendar to time block specific tactics you'll deploy throughout the day. For instance, block off time to send off email sequences, post on socials, reach out to your network on LinkedIn, etc.
Assess Competition
A few days before launch, get a pulse on your competition by looking at Product Hunt's Coming Soon Page. This way, you don't get surprised by GPT5 launching on the same day.
Draft up your Email Sequences and Messages
Prepare your email sequences or blasts - whether you're reaching out to existing users or to other companies that recently launched on Product Hunt. Since Supademo works with companies across 50+ countries, we created three separate emails at different times and locations to align timing.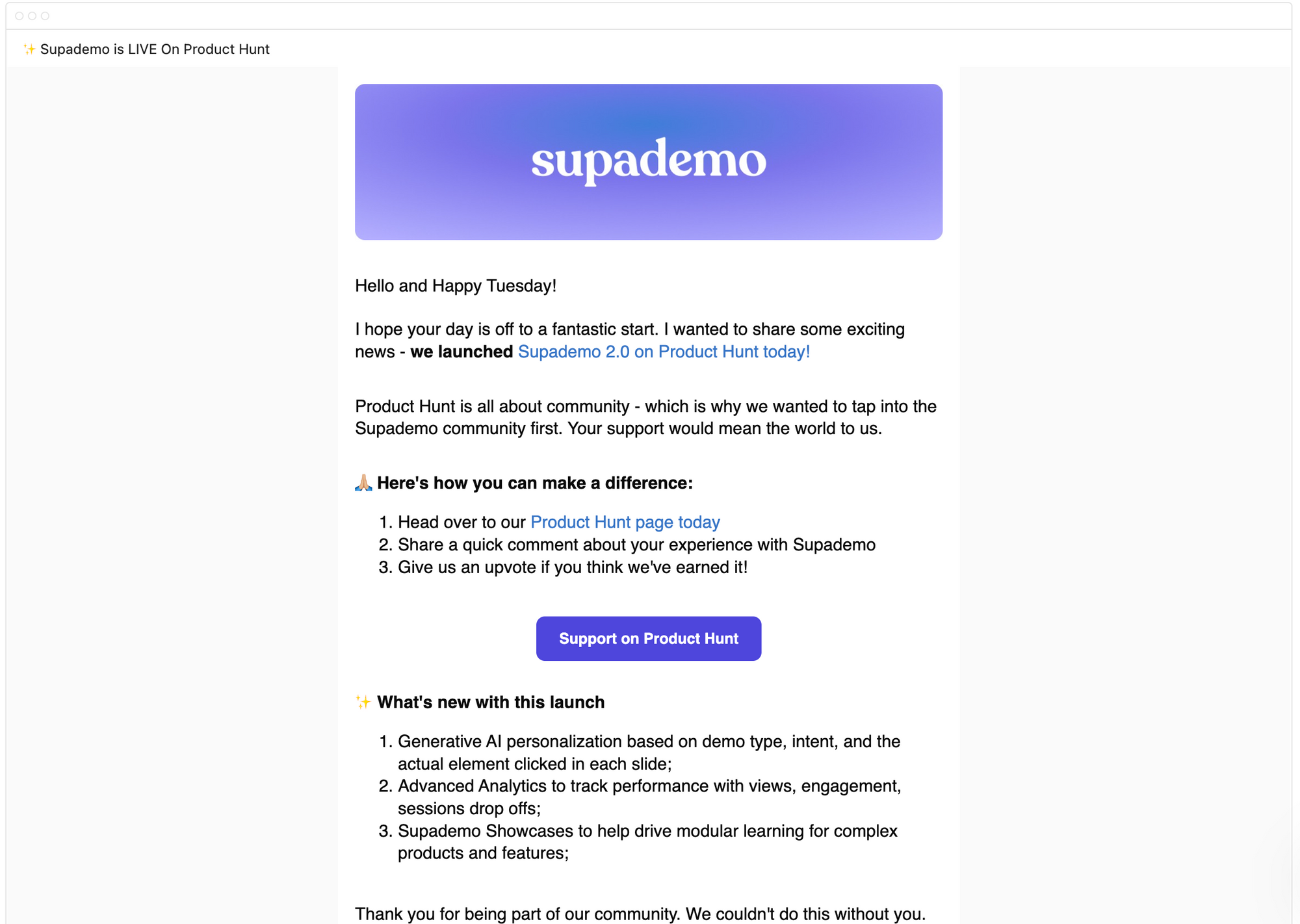 Prepare Launch Assets
Put on your creative hat and start designing all of the graphics, videos, and text you'll be adding to your launch page. Here's our launch page to serve as inspiration for the content and assets.
Take this content and make sure to repurpose it for use across all of your social channels as well (i.e. LinkedIn, Twitter). Get these scheduled ahead of time to ease your burden on launch day!
Prepare Maker Comment
A maker comment is a short blurb that you'll add to your Product Hunt post, where you:
Quickly introduce yourself
Describe why you're building your product
What problems you solve for your users (along with potential use cases)
And a CTA/prompt for folks to comment or leave feedback
Here is Supademo's maker comment for reference: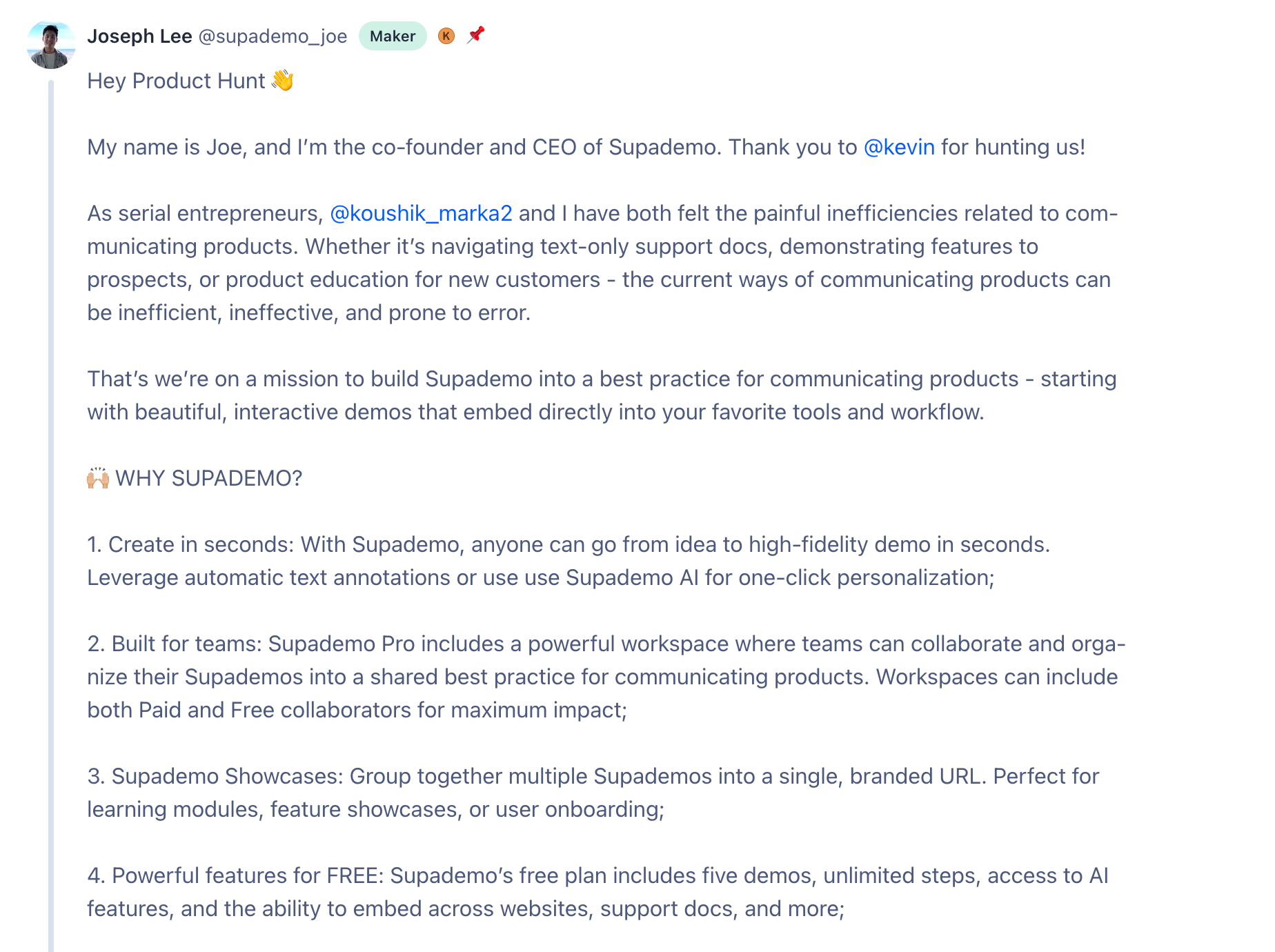 Add an interactive Supademo to your website
You're going to have a ton of new visitors to your website who aren't necessarily problem-aware or familiar with your space.
Visitors will have short attention spans and will almost surely not take the time to read all of your website copy. To help them quickly understand the benefits of your product and the problems you solve, create an interactive Supademo that helps them arrive at the "aha" moment without signing up.
Your product's goal is to help users go from A to B. The fewer steps, the better the journey, and the more successful your product will be. An interactive demo helps you do just that.
Here's an example we used to demonstrate our new AI functionality:
Step 6: Launch and Grind 💪🏼
Make sure you're well rested, properly caffeinated, and ready to grind for 24 hours. A successful launch requires both tactical preparation and relentless effort during launch day.
To ensure you start off with a bang, make sure you start reaching out to customers and folks a few hours before 12:01am.
Getting to the first three spots will create a level of organic momentum (e.g. lots of PH visitors don't scroll below the top three products) that will amplify your launch.
Then throughout the day, follow through and execute on all of the tactical activities while DM'ing/reaching out to as many people as possible. Your goal is to obnoxiously shout from the rooftops and tell your story - no matter how cringe it can be.
Use established tools like LeadDelta to personally reach out to everyone you know.
Ultimately, if you've put in the time and effort, you'll find some level of success and learn a ton during the process. For Supademo, we ultimately didn't reach one of our goals of finishing 1st, but we had some solid outcomes:
Supademo's results
Upvotes: 1,101
Comments: 396
Day rank: #3
Week rank: #6
Website increase: 421.8% (~7000 website visits in two weeks)
New paying companies: 14 (that we know of)
Signups: 500+
---
What I would do differently 👎🏻
In short? A lot.
One of the mistakes we made was pushing back our Product Hunt launch date twice. This led to a loss in momentum and continuity during our planning and preparation.
The other piece is prioritizing momentum during the first 30 minutes of launch. As mentioned above, it can be really tough to battle back up to the top 3-5 positions once you're buried below the fold of the top 10 trending products.
To circumvent this, it's important to:
Keep a better pulse on time zones: Reach out to users/audiences/customers with working hours that align with 12:01am PST (i.e. India) to make sure you build momentum and page visibility in the first 30 minutes. Keep a better pulse on time zones throughout launch day (i.e. we messaged some folks too late in the working day for an upvote)
Build a community and let them know you're launching well ahead of time
Factor in delayed responses: A lot of supporters simply didn't see my message until 1-3 days later. While they were eager to upvote and support after the launch, it's important to remember that only upvotes from launch day count towards Product of the Day. Factor this in and consider reaching out to folks a few days before launch.
---
In Conclusion...
Launching on Product Hunt is an exhilarating ride that I'd recommend to any startup founder or builder. You'll gain immense support and invaluable feedback to iterate and improve upon your product.
If this was a helpful read, let me know by connecting with me on LinkedIn, Twitter, or by visiting Supademo 🙌🏼