Are you a founder or a GTM (go-to-market) professional? Well then - you've surely heard of Journey.io, a no-code platform for sales to tell better stories and win more deals. Since launching in 2021, Journey has raised more than $4M from Y-Combinator, Susa Ventures, and operators like Sahil Lavingia.
On the other hand, Supademo is a fast-growing platform for creating interactive product demos and guides in minutes. Supademo helps GTM and revenue operations leverage interactive demos/guides across onboarding, customer support, sales recaps, and internal training.
In this article, we'll explore why you should embed Supademo within Journey.io to enhance your storytelling capabilities, win more deals, and activate customers faster.
Why embed Supademo in Journey.io?
Supademo, known for being the fastest way to create and share interactive demos and guides, offers a range of powerful features that make it a game-changer for marketers, product managers, and support teams alike.
On the other hand, Journey.io is a trusted platform that allows storytellers to create engaging narratives with responsive slides, video recordings, interactive blocks, and embeds from your favorite tools (like Supademo).
Whether you're a marketer, product manager, or support professional, Journey.io offers several benefits:
Automagical Creation of Content: Journey.io utilizes the power of AI to write your first draft, saving you time and helping you craft better stories.
A Trove of Blocks: Journey.io offers a wide variety of blocks that allow you to include different types of content in your stories.
Detailed Insights and Tracking: Journey.io allows you to track the performance of your stories and make data-driven decisions to optimize engagement.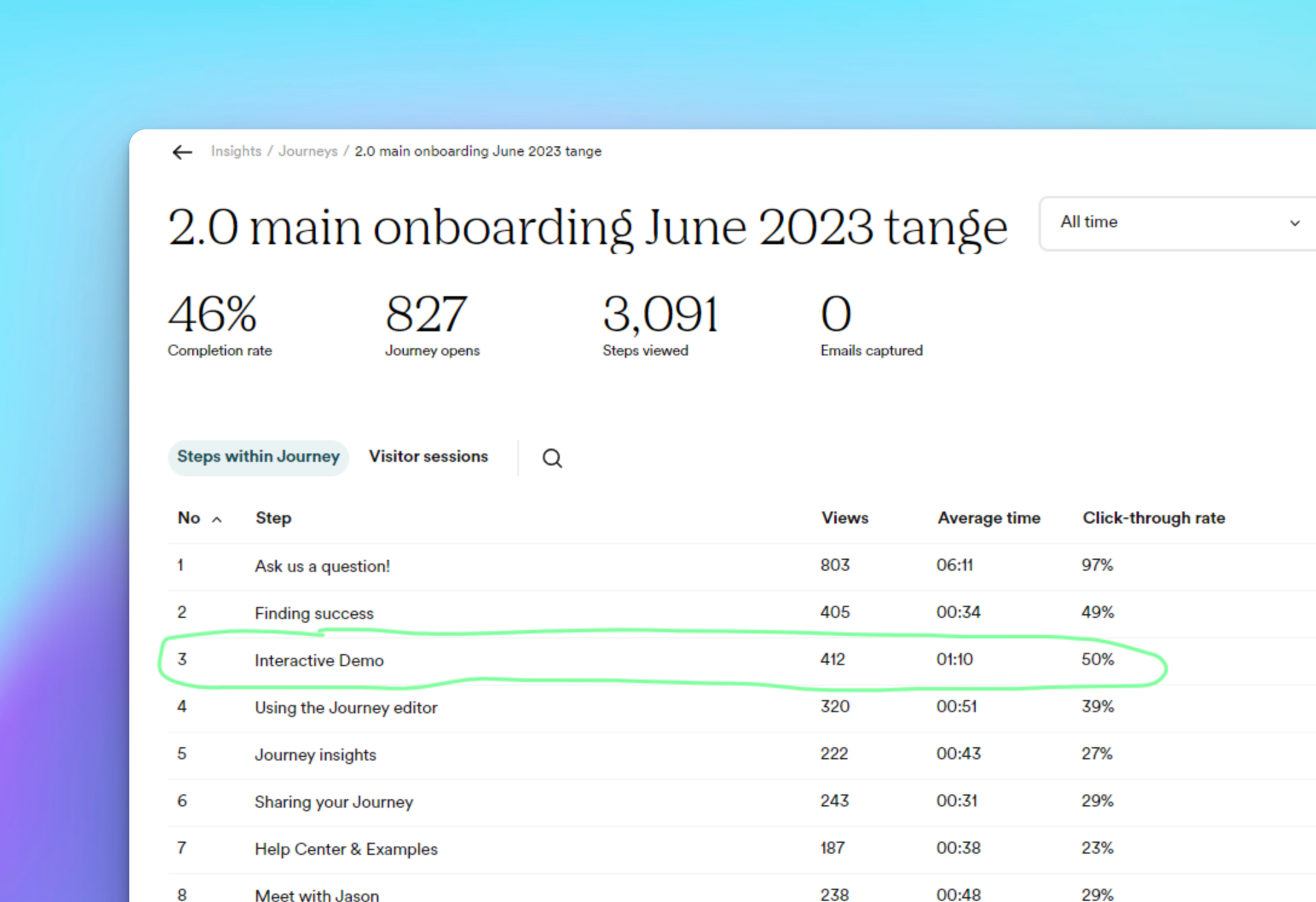 By combining these two tools, you can unlock a new level of storytelling and customer engagement:
Personalized product tours in seconds
With Supademo's embed capability, you can add product showcases to your Journey.io presentation in seconds - helping prospects learn about your product beyond just words, photos, or video (which sadly, may never get watched).
Showcase learning by doing
Humans are visual learners by nature. Onboard sales prospects or new customers to successful outcomes by guiding them through your product or feature, step-by-step. With Supademo embeds in Journey, customers can loop back and reference this material at any time - unlike certain app tours that appear when you don't need it but disappear when you do.
Arm your champions
With Supademo embeds in Journey.io, you can arm your champions with the tools they need to convince other decision makers on their team. Instead of trusting your champion to pitch or explain your product with the right words, give them a step-by-step interactive product demo that complements the content you've also included in your Journey.io presentation.
How to embed Supademo into Journey.io
Now that we understand the power of Supademo and Journey.io, let's dive into the steps to embed Supademo into Journey.io. In just a few short steps, you'll be able to seamlessly embed interactive demos and guides into your Journey.io narrative.
Step 1: Create Your Supademo
The first step is to create your interactive demo or guide using Supademo. Start by turning on the Supademo extension and click through the desired flow of your product or service. As you navigate through the flow, Supademo will automatically capture the clicks and interactions, creating a click-through demo with hotspots and text instructions. This whole process takes less than 5 minutes!
Step 2: Customize Your Supademo
Once your Supademo is created, it's time to customize it to match your branding and storytelling requirements. Supademo offers a range of customization options that allow you to make your demos more engaging and visually appealing. You can:
Add branding and custom domains: Brand your demos by adding your company logo, increasing brand recognition and trust.
Apply blurs and highlights: Highlight specific areas of your demo by applying blurs to other parts, guiding your audience's attention.
Enable autoplay: Choose whether your demo should start automatically or wait for the user to initiate the interaction.
Add CTAs: Drive specific actions from your audience by including call-to-action buttons within your demos.
Step 3: Embed Your Supademo in Journey.io
Once you've customized your Supademo, it's time to share and embed it into your Journey.io presentation. Journey.io offers a seamless integration with Supademo, allowing you to enhance your storytelling capabilities with interactive demos.
Use Cases for Embedding Supademo into Journey.io
The ability to embed Supademo into Journey.io opens up a world of possibilities for various teams across organizations.
Here are some key use cases for leveraging this powerful combination:
Revenue Operations: Empower your sales team by providing them with interactive demos and guides that showcase the top features and benefits of your product after a sales demo. This helps your champions effectively communicate the value of your offering and close deals faster.
Customer Onboarding: Accelerate the onboarding process by creating step-by-step learning modules that guide new customers through your product or service. Embedding interactive demos within your onboarding materials helps users quickly understand how to leverage your offering and become active users.
Human Resources: Streamline new employee onboarding by creating interactive demos that guide new hires through your company's tools, processes, and policies. This helps new employees quickly get up to speed and become productive members of your team.
By embedding Supademo into Journey.io, you can unlock the full potential of your storytelling capabilities and create engaging narratives that captivate your audience at every stage of the customer journey.
Conclusion
Embedding Supademo into Journey.io is a powerful combination that allows you to create interactive demos and guides while leveraging the storytelling capabilities of Journey.io.
By seamlessly integrating Supademo into your Journey.io narratives, you can win more deals, showcase your product to leads without a paywall, and activate customers faster.
So, why wait? Start embedding Supademo into Journey.io today and take your storytelling to the next level!