Auto-Generated Hotspot Text
We've just rolled out a new update that we think you'll love! It's a game-changer for creating demos because this new feature automatically generates default texts to hotspots based on your cursor clicks🔥
This means that when you record a demo, you no longer need to manually add text to each hotspot, saving up to 50% of your time.
Demo Analytics
Get ready to put your detective hat on because our analytics feature has finally arrived! No more guessing games on how your demo is performing. With our new analytics feature, you'll have all the answers at your fingertips.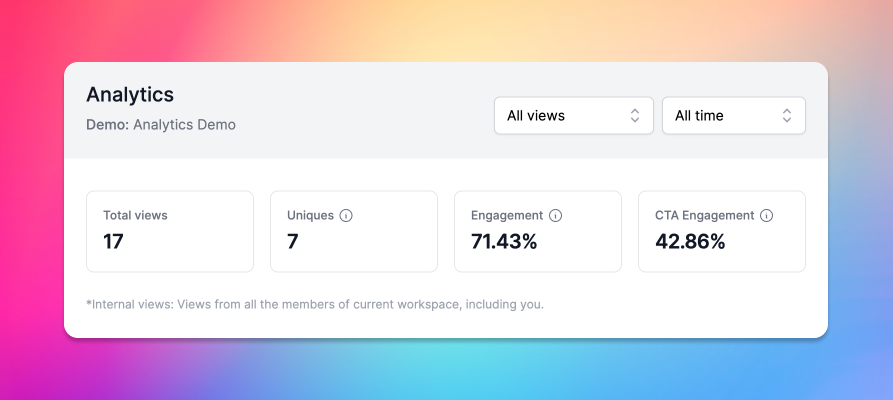 Here's what you'll get to see:
Total Views: How many times has your demo been viewed? We'll give you the exact number!
Uniques: Know the number of one-of-a-kind visitors who have checked out your demo.
Engagement: See the percentage of unique users who couldn't resist clicking on at least one hotspot. You'll be surprised at how curious people can be!
CTA Engagement: Get the statistics on how many unique visitors clicked on your demo's CTA button.
You can access analytics of each demo from the dashboard and demo page. We understand that data can sometimes be overwhelming, so we've kept our analytics feature light and easy to understand. No need to be a data wizard to make sense of it.As time passes, we will bring some improvements to our analytics feature to make it more informative and helpful.
More Formatting Options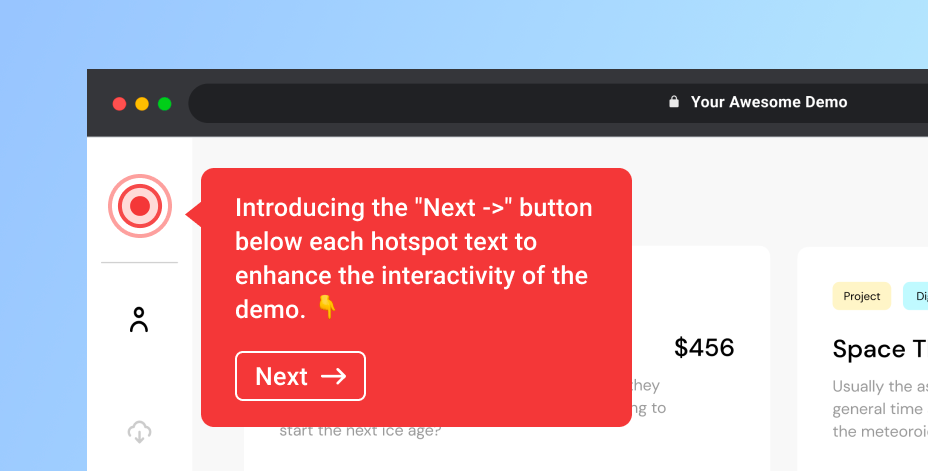 Next Button
Introducing the "Next ->" button below each hotspot text to enhance the interactivity of the demo. The button can be enabled or disabled in the demo settings.

Hotspot text formatting
Formatting hotspot text just got easier with Markdown syntax support. Not familiar with Markdown?
It's a simple way to format plain text into HTML for web publishing. Markdown uses simple symbols to add formatting, such as bold, italic, and hyperlinks.
Currently, we support these three options.
Bold - your-text-here
Italic - your-text-here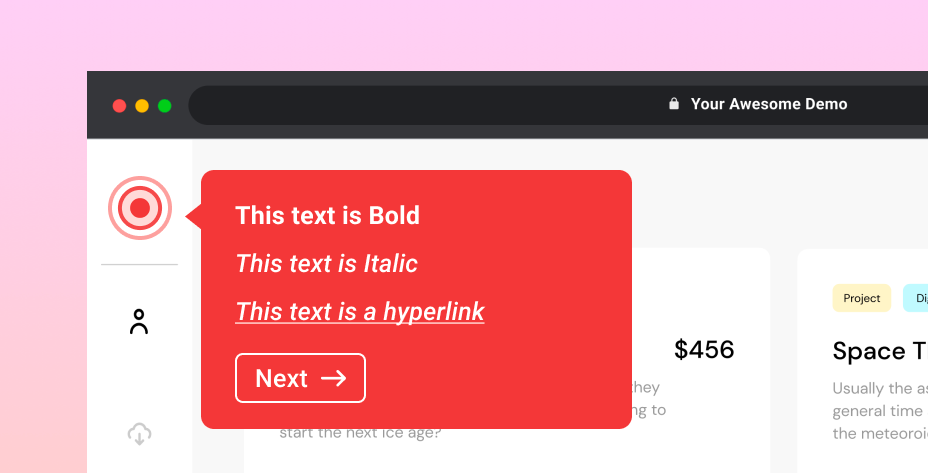 Improvements to the Edit page
You can now effortlessly rearrange the order of slides by simply dragging and dropping.
Additionally, we've added keyboard shortcuts to save you time and streamline your workflow. Use CTRL+C to copy a slide and CTRL+V to paste it as duplicates.
Or you can even duplicate a slide by clicking on the "Duplicate." icon.