Best Practices
13 Interactive Product Demo Examples To Inspire Your Next Demo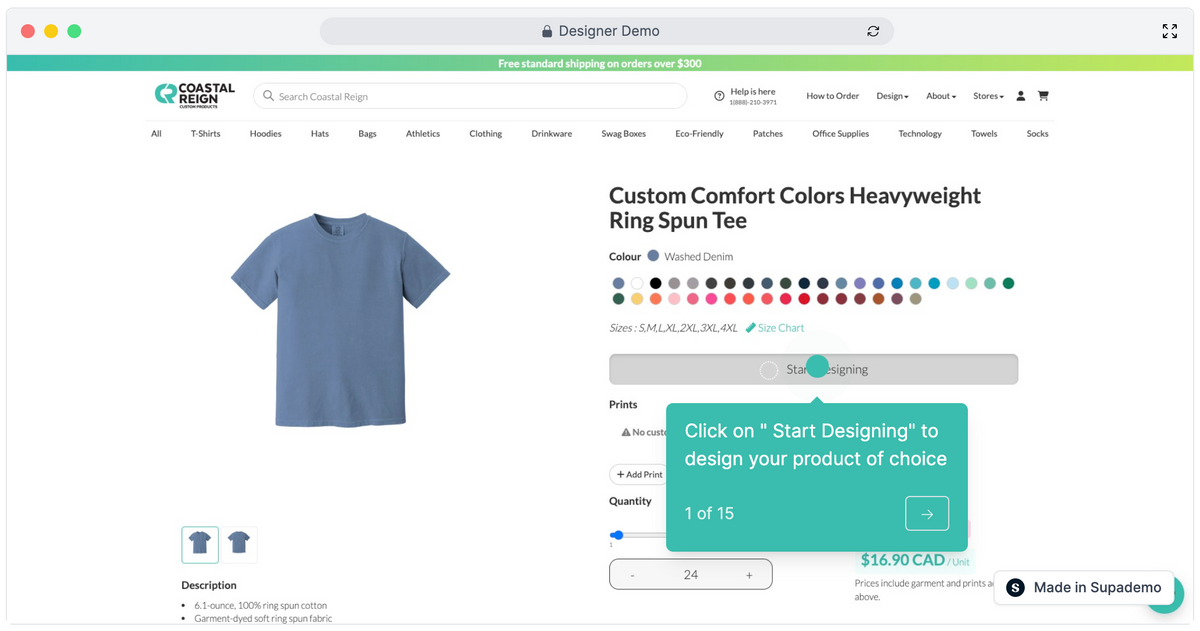 An interactive product demo is an informative, self-paced opportunity for users to understand the value of your product. It allows users to explore and interact with your key features and benefits up-front, helping them realize the "aha moment" in your product.
With the rise of product-led growth, companies are increasingly leveraging interactive product demos to showcase their features, values, and benefits up-front, without forcing prospects to book a demo or enter in their credit card.
This is especially pertinent for companies with complex functionality or wide breadth of features, which can be difficult to showcase with just words or screenshots.
Luckily, we're here to help showcase several interactive product demo examples that will inspire your next demo!
What makes an effective interactive product demo?
A good interactive product demo should be engaging, informative, and easy to use. Here are some elements that are found in good interactive product demo examples:
Tailored for each audience: The demo should be tailored for the specific audience you're targeting. For instance, tweak the benefits and feature highlights to ensure it resonates with different segments of users.
Clear navigation: The demo should clearly articulate the suggested action on each page.
Simplicity and speed: The demo should load quickly and perform smoothly. Users should not have to find relevant sections in a video, scrubb through progress bars, or wait too long for the demo or actions to be processed.
Clear value proposition: The demo should clearly communicate the product's value proposition and how it solves users' problems.
Call to Action: The demo should include a clear call-to-action, encouraging users to take the next step, such as signing up for a trial or purchasing the product.
Through a great interactive product demo example, business can showcase products effectively, improve user engagement, and drive business growth.
Interactive product demo examples - where are they used?
After analyzing over 3000 interactive product demo examples, popular use cases include:
Product marketing: embed interactive demos on landing pages, product update blogs, social media, and partnership pages;
Support documentation: embed on Gitbook, Zendesk, or share as a link as customer support arises;
Training and "How To" guides: Notion employee onboarding guides, etc;
Sales: Pre-sales emails, cold email sequences, follow up emails;
---
12 interactive product demo examples for SaaS

To inspire your next interactive demo, we've put together a list of top interactive product demo examples:
1. Ledger
Founded in Paris in 2014, LEDGER is a global platform for digital assets and Web3. Ledger is already the world leader in Critical Digital Asset security and utility and has raised over $100M.
Highlights
An awesome title and initial overlay, explaining what the user will be demoing
Simple, action-oriented walkthrough of the feature
A clear call-to-action for user next steps
---

2. Coastal Reign
Coastal Reign is a t-shirt printing company based in Vancouver and Toronto. The team specializes in high-quality screen printing, embroidery, direct to garment printing, and sublimation on a large variety of custom clothing that allows brands, schools, and sports team to stand out.
Highlights
Coastal Reign uses A/B testing to confirm that Supademo increased their conversion by 33%;
An interactive snippet is embedded within each "How to Order" step to drive the sales funnel
3. Rivernue
Rivernue.com is a B2B marketplace that connects businesses all over the European Union. The company provides a platform for buyers and sellers to connect, purchase products and create sustainable trade opportunities.
Highlights
An interactive demo is used for each step in their how-to guide;
Embedded directly within their support documents to simplify access;
---
4. 3vLabs
3vlabs is a web3 growth studio that's fully dedicated on strengthening the Web3 ecosystem.
Highlights
3vlabs helps creators focus on building their products, not figuring out how features work:
Text is removed from certain hotspots to simplify and streamline the demo;
---
5. Billetto
Billetto is a forward-thinking ticketing platform and events community of more than 3 million members across Europe. Billetto was founded in 2009 and operates in 14 European markets, selling over 2 million tickets a year.
Highlights
Used for pre-sales processes, helping Billetto increase conversion rates and close more customers;
Warm, friendly tone used within the text annotations;
---
6. Intros AI
Intros AI uses generative AI to connect people. Their product creates "Chief Connection Officers" to connect the right individuals within organizations, boosting efficiency, personal growth, and a sense of belonging.
Highlights
Used as the main method to introduce and educated new customers on Intros;
Intros uses custom images and screenshots for this example, instead of their actual platform;
---
7. Prelo
Prelo is a sales platform that helps amazing business owners build their sales pipelines with intelligent data. The company is part of the On Deck community.
Highlights
Prelo minimizes time-to-value with helpful snippets embedded within their product to drive action
Autoplay is used to automatically loop through the demo in a custom time interval;
---
8. Locale
Locale is a Control Tower for Ops Observability & Actionability which empowers operations and business teams to leverage their data and set up a simple monitoring and alerting system of record. The company has raised over $1M in funding.
Highlights
Locale makes it easy for prospects to understand their product, by embedding a Supademo directly on their landing page;
Autoplay is used to automatically loop through the demo in a custom time interval;
---
9. Freshline
Freshline is the e-commerce platform for food distributors and wholesalers. Freshline helps customers automate order collection, access real-time analytics, and focus on growing their business — not maintaining it.
Highlights
Freshline enables prospects to "try before they buy" for each of their core features, right on their landing page;
CTAs and Overlays are used for each feature to clearly articulate the value and benefits;
---
10. Artemis LAbs
Artemis creates interactive canvases that display the structure and contents of complex data projects. The company is funded by Y-Combinator.
Highlights
Artemis simplifies the complexities of data science with step-by-step demos;
Clear, step-by-step directions are given for their customers to self-onboard;
---
11. Afi Labs
Afi Labs delivers custom software to meet your logistics needs. From vehicle routing, live tracking to proof of delivery, the company builds complete delivery management platform for businesses.
Highlights
Afi Labs drives usage through interactive demos that are triggered by users opening a complex feature;
Custom colors are used to align with the Parcelizer product branding;
---
12. Revrise
RevRise is a simple yet powerful software that automatically requests and shares patient reviews online to boost the reputation and growth of medical business.
Highlights
Revrise embeds step-by-step guides in their support documentation for their clients who may not be tech savvy;
A clear overlay button is used to initiate the tutorial;
---
13. Hyperscale
Hyperscale is a startup that automatically finds qualified leads and send personalized messages using AI.
Highlights
Hyperscale embeds interactive guides in their Gitbook support page;
An embedded "How To" is also displayed below complex features to highlight complex features or setup steps;
---
These interactive product demo examples help users understand how your software works, learn key features and benefits, and get started using your product faster. Interactive demos can also reduce the need for customer support, increase sales, and build better engagement with your users.
With Supademo, you can easily create interactive demos that are tailored to your software product and its key features. Try it out today and see how it can help you build better engagement with your users and increase product adoption.
Did these interactive product demo examples help? Let us know by creating your own interactive demo and sharing it with us on Twitter or LinkedIn.