How Porter Metrics scales content with Supademo
Learn how Porter accelerates time-to-value and optimizes conversion rates with Supademo.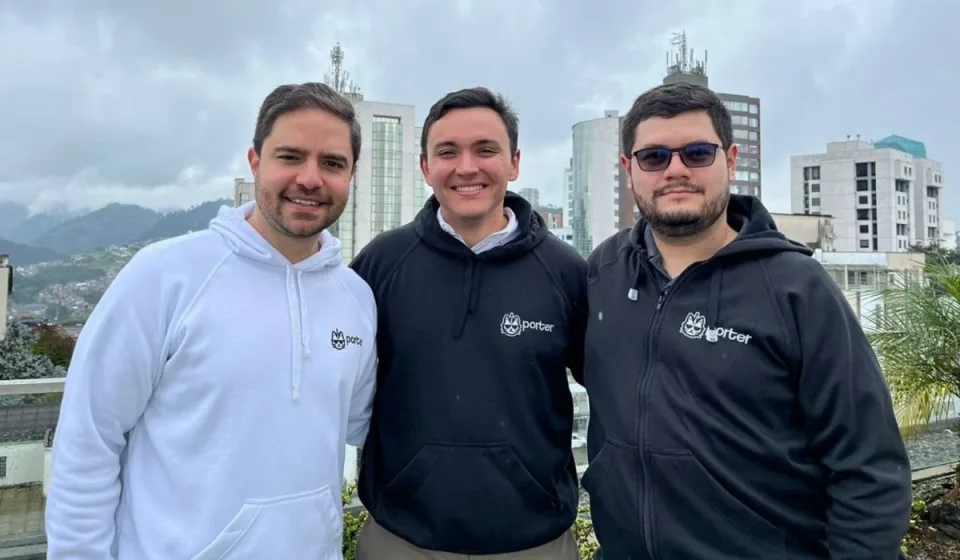 Juan, can you tell us a bit more about Porter Metrics?
I'm Juan - Founder and CEO of Porter Metrics. Porter provides cross-channel marketing reporting for small businesses doing e-commerce and lead generation.
We connect marketing data from social media, ads, CRM, and e-commerce, so users can monitor performance across channels, products, clients, and campaigns, in the tools they already use (Looker Studio and Sheets).
Unlike other tools, we let users do what today requires them to implement a data warehouse like Google BigQuery; with us, users can blend data automatically, categorize their campaigns with AI, and even combine dozens of accounts in a single connection.
We expect that in the future we can build the first steps to enable a new category: vertical data warehouses.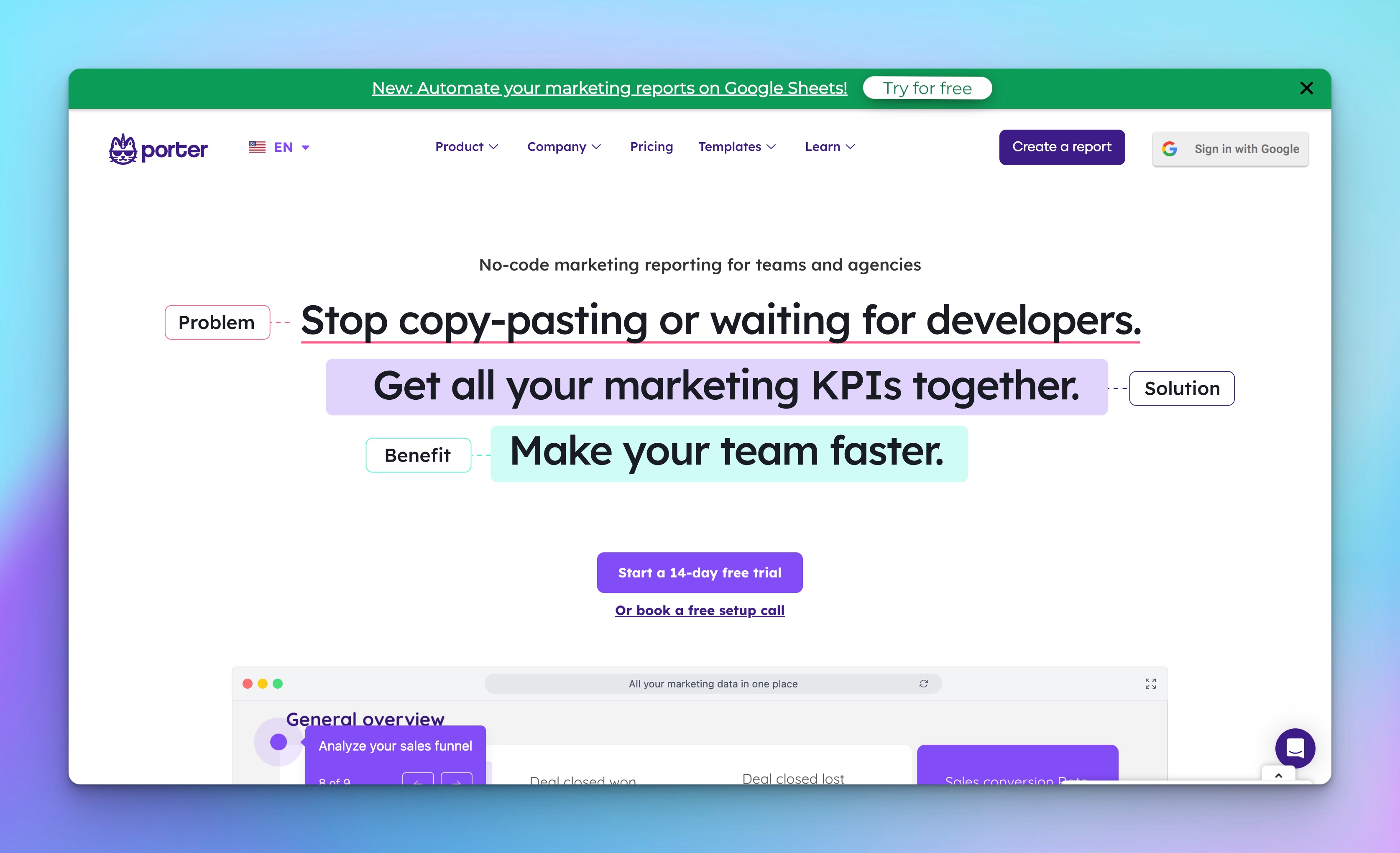 Can you tell us about the genesis story behind Porter?
Porter started as a byproduct of a pandemic pivot. We used to sell traffic and conversion measurement for physical retail stores. With the onslaught of closures due to COVID-19, we were forced to quickly adapt our solution to this new dynamic.
At the time, I was teaching marketing analytics on several platforms and customers started to ask me about how they could create marketing reports on Google Looker Studio (then Google Data Studio).
After some research, I noticed that the market was fairly new and the few competitors were quite expensive. Now it's a more crowded market. We were lucky to be one of the earliest players in the marketing data connectors space for Google Looker Studio.
What does your day-to-day look like at Porter?
As the founder and CEO at Porter Metrics, I:
Guide the vision

: I talk to customers often, research competitors, industry players, and define positioning and messaging.
Provide customer support

: I take calls every day to understand customers frustrations with our product and general needs.
Get customers

: mainly through content marketing by creating marketing report tutorials and templates that we distribute on Youtube, Google (SEO) and LinkedIn, we manage to get +100 new customers every month.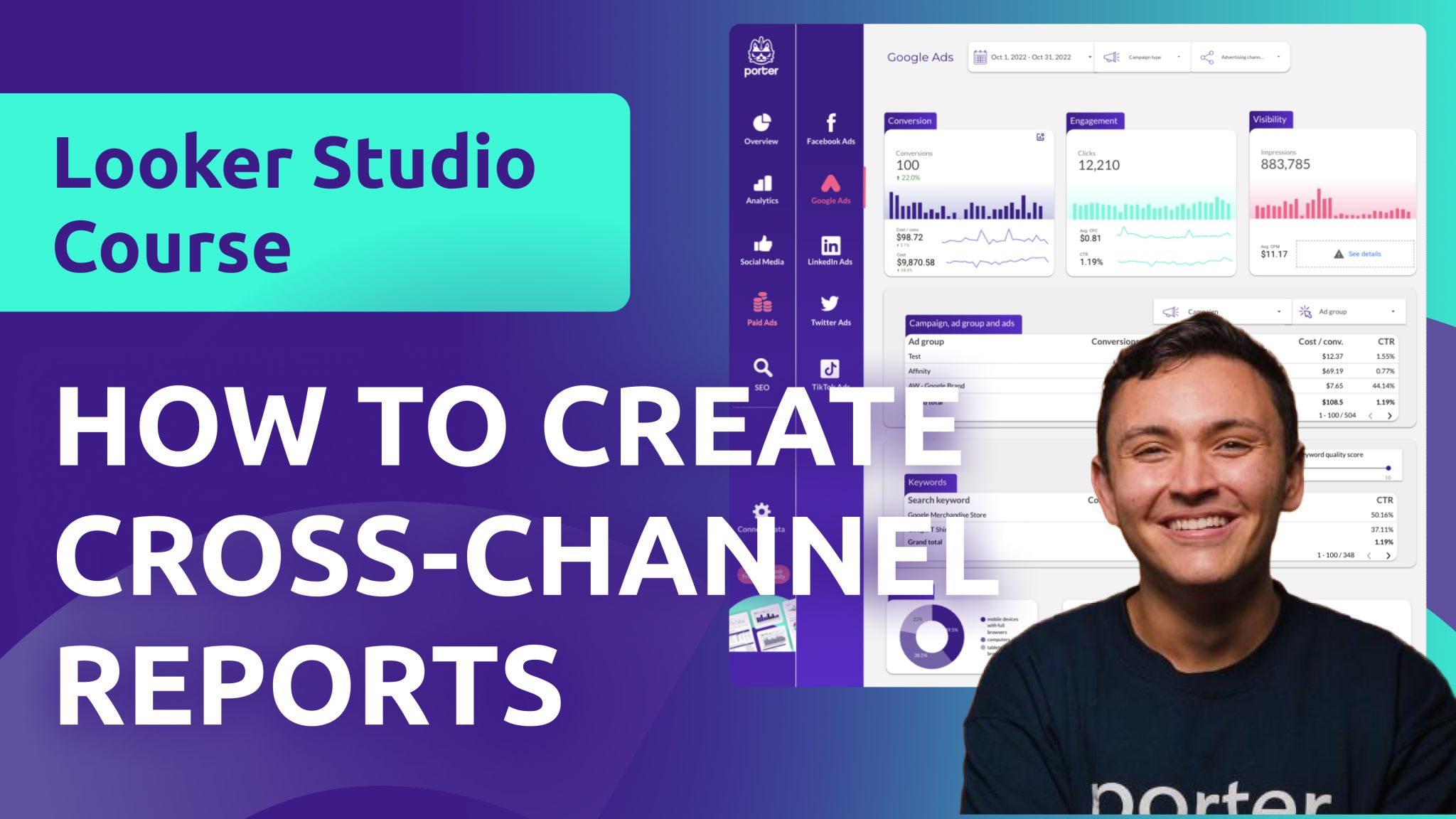 How did you first hear about Supademo?
We used to be heavy users of product tour tools, but found them to be expensive and difficult to keep updated as our product changed. Furthermore, the standard product tour platforms were mostly built for technical product teams, not marketing teams.
Then we saw Supademo embedded in another company's website. When we interacted with that first Supademo, we knew that it was exactly what we were looking for: a new format to showcase our product and even present our tutorials in a way that is 10x better than a blog post or even a video tutorial.
What are the top Supademo use cases at Porter?
The biggest use case and value is accelerating time-to-value for conversion rate optimization - across multiple use cases in our company. We have learned that most website visitors won't even bother to connect their data even if we simply offer them a free trial.
In a market like ours (where there's a lot of saturation and commoditized) users will only bother to connect 1 or two providers.
The second use case is documentation. Supademo is our fastest way to explain a process. In the past, we offered documentation as either a text-based blog post or video to our users.
Supademo has become the 3rd and best option as it provides faster time to value and clarity. Users prefer to go through interactive demos rather than a video tutorial or even reading a guide. It's fast, self-paced, and intuitive.
How has Supademo impacted your business?
At a high level, Supademo has helped us accelerate time-to-value, which is the most critical factor in product-led-growth (PLG). Supademo has helped specifically in three ways:
Clarity and differentiation

: Supademo helps us explain with great clarity the value and features of our product. Marketing Analytics and reporting products are often hard to explain (and differentiate). There's no copy better than a Supademo explaining a complex process or example.
Scaling our content

: Creating Supademos is the pillar to repurposing our content. With Supademos, we can quickly create step-by-step posts with images to rank on Google. Also, we use them to record screens and create video tutorials that are easier to edit as we can save the back-and-forth of using tools in real-time otherwise.
Automating support

: we embed Supademos at the top of our help center articles to give clarity to the processes. We also use them on our support chats to explain a process with greater clarity.
Supademo was extremely easy to trial and adopt, intuitive/user-friendly, and is a great tool for members across the entire team. For instance, we use it for marketing, support, and content - not just for app tours.
The fact that it's embedded and used across our entire workflow (i.e. support documentation, SEO, and content marketing) has been really helpful.
What's next for Porter Metrics?
A lot. At Porter, we're focused on building the 1st "vertical data warehouse" for e-commerce. Our plan is to:
Scale our content production with programmatic SEO and Supademos
Launch a "hall of fame" showcasing our clients' actual reports
Create the largest resource of video tutorials around marketing reporting and analytics
Stay updated on our progress through our website!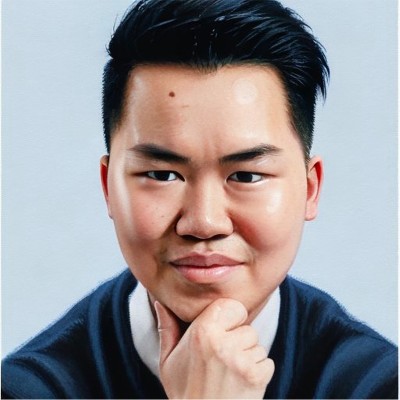 Soren Colton
Director of Solutions
"We love it! We signed up for the pro version for the extra features, completely worth it!
Very easy to use for demos or tutorials.
"

Daniela De Almada
Head of Marketing
"I absolutely love Supademo.
We are using it for so much more than just showcasing
use cases in our home page!"

Victoria Kim
Product Marketing Manager
"
Supademo is SO GOOD.
We're using it for all of onboarding documents now."

Nathan Sudds
Digital Consultant
"Supademo is awesome! 🔥 I can't believe how quickly I was able to create a demo of my app just by browsing in Chrome and then editing the prompts.
I've tried a lot of tools like this but nothing worked as effortlessly!
"

Leonard Korkmaz
Product Marketing Manager
"Awesome product. I highly recommend Supademo for anyone who needs to create demos. The app is
simple to use, yet powerful enough to create high-quality material quickly and easily.
"

Robert Boka
Co-founder & CEO
"Great work, I'm thoroughly impressed.
It's literally saved me from getting on three phone calls just today
by annotating a quick walk through in reply to a "how do I email" for a customer who hasn't completed onboarding yet."