Compare Storylane vs. Supademo
The fast and user-friendly Storylane alternative
See why customers are choosing Supademo, the Storylane alternative that includes more features for less.
Not another screen recorder
Supercharge user engagement and adoption with interactive demos and guides. No more screenshot markups, endless video edits, and re-recording audio.
No-code extension
Record any product or workflow in 5 minutes with an easy-to-use, no-code Chrome extension.
Automatic text annotations
Click through your product or workflow and Supademo will automatically create text descriptions to annotate each step.
Upload images and screenshots
Add images to an existing Supademo or create one from scratch by using your own slides or screenshots.
Hotspot customization
Quickly edit automatic text annotations with your own text, color, or markdown edits.
Call-to-action
Empower your audience to take action at their point of inspiration with a call-to-action prompt.
Initial overlay
Highlight or summarize your demo intent with a overlay message that precedes your Supademo.
Autoplay & demo loops
Autoplay or loop your Supademo without any viewer interaction, just like an interactive video.
Redact and annotate
Quickly crop, redact, or annotate your demo slide - directly within the Supademo editor, instantly.
Custom domains
Let your brand shine through with a customized URL that is used for all of your Supademos.
Workspace theme
Set a default brand themes across all of your Supademos, such as hotspot colors, logo, and demo page CTA.
SEO customization
Accelerate your time to close with custom click-through demos that recap meetings and loop in decision makers.
Workspace collaboration
Share Supademo across personal and company workspaces for cross-functional feedback and editing.
Folders & bulk actions
Organize your Supademo by folders and use bulk actions to move, edit, or merge Supademos.
Single sign-on
Streamline your enterprise usage with single sign-on (SSO) and SAML functionality.
Showcase bundles
Group together related Supademos into feature showcases, onboarding kits, and walkthrough by customer segment.
Embed or share anywhere
Embed Supademo to your website, blog, support docs, or favorite tools - like Zendesk, Webflow, or Notion.
Export as GIF or PDF
Share your Supademo as an email attachment or through offline channels via quick exports.
Supademo analytics
Track your Supademo's performance by measuring engagement on a per-demo or aggregate basis.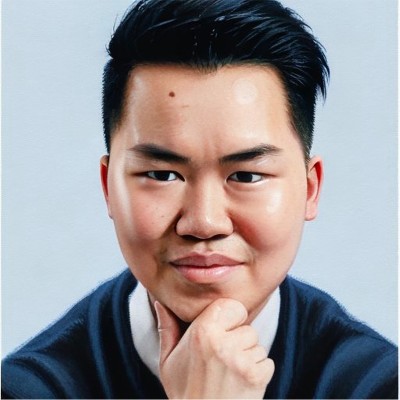 Soren Colton
Director of Solutions
"We love it! We signed up for the pro version for the extra features, completely worth it!
Very easy to use for demos or tutorials.
"

Daniela De Almada
Head of Marketing
"I absolutely love Supademo.
We are using it for so much more than just showcasing
use cases in our home page!"

Victoria Kim
Product Marketing Manager
"
Supademo is SO GOOD.
We're using it for all of onboarding documents now."

Nathan Sudds
Digital Consultant
"Supademo is awesome! 🔥 I can't believe how quickly I was able to create a demo of my app just by browsing in Chrome and then editing the prompts.
I've tried a lot of tools like this but nothing worked as effortlessly!
"

Leonard Korkmaz
Product Marketing Manager
"Awesome product. I highly recommend Supademo for anyone who needs to create demos. The app is
simple to use, yet powerful enough to create high-quality material quickly and easily.
"

Robert Boka
Co-founder & CEO
"Great work, I'm thoroughly impressed.
It's literally saved me from getting on three phone calls just today
by annotating a quick walk through in reply to a "how do I email" for a customer who hasn't completed onboarding yet."
Why Supademo is a great Storylane alternative
See the complete breakdown of how Storylane vs. Supademo
| Compare | Supademo | Storylane |
| --- | --- | --- |
| Platform Use-Case | Marketing, Success, Sales & Education | Marketing, Sales |
| Pricing | Starts at $24/mo | Starts at $40/mo (2 seats min) |
| Collaboration | Included in Pro | Included in Growth ($500) |
| Custom URL | Available | N/A |
| Seats Included (Pro) | 5 Included | 1 Included - $ Per Seat |
| Ease of Use | 5 mins to create and share | 10 mins to create |
| Free Trial | 14 day trial of Pro | N/A |
| Free Plan | Yes - 5 demos included | Yes - 1 demo included |
| Recording Type | Screenshot | Screenshot and HTML |
| Integrations | Limited | Integrations to all CRM and Martech stack |
| Unlimited Demos | Yes | Yes |
| 30 Day Guarantee | Yes | N/A |
| Personal Support | Included in all plans | Intercom support from Pro & up |
Reasons to choose Supademo over Storylane
Get more for your money with a feature-rich, easy-to-use alternative to Storylane.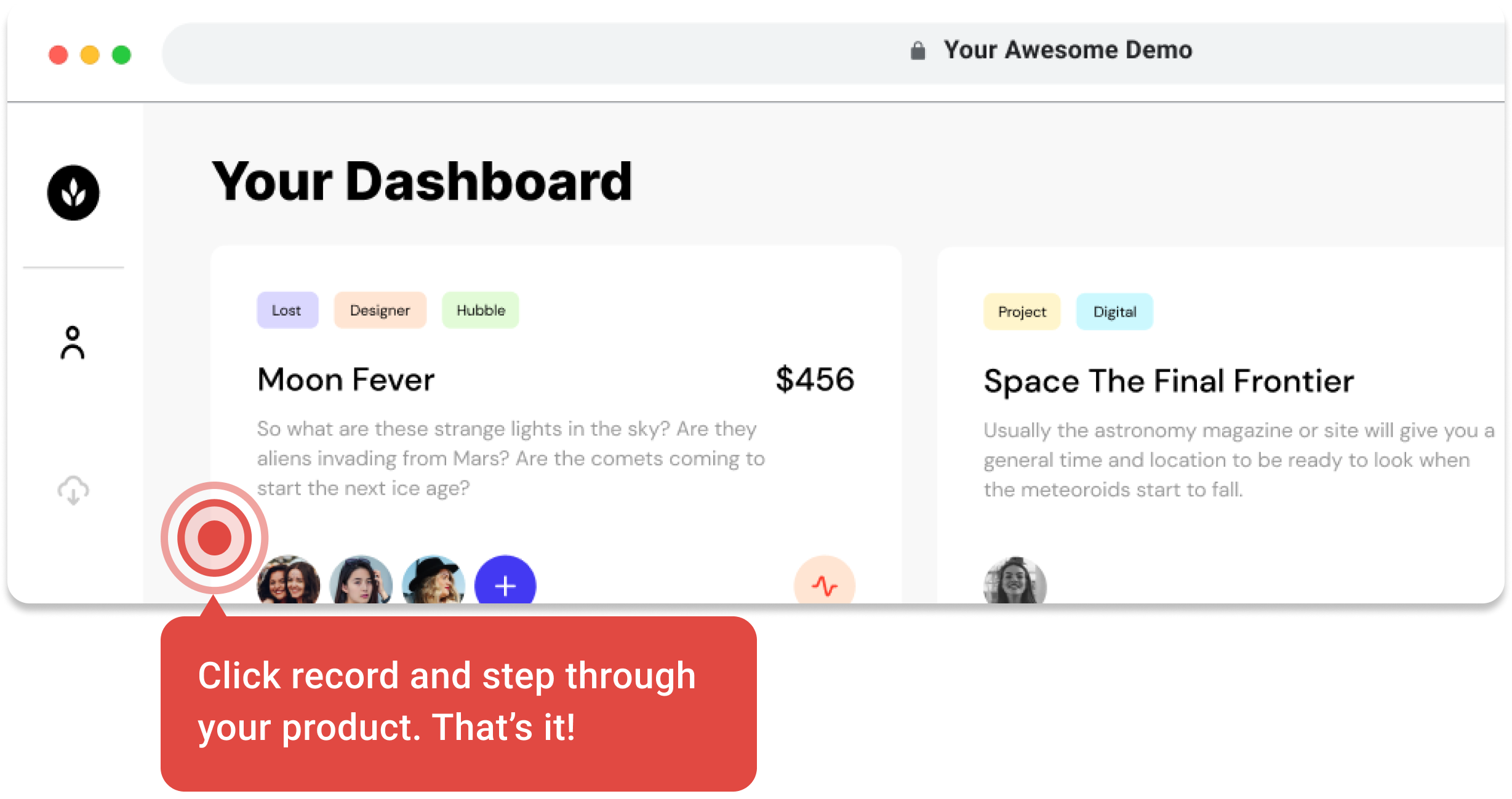 More competitive pricing plans
Get More for 75% Less

Supademo Pro includes collaboration built-in vs. Storylane's 1 user and no collaboration.

More Generous Free Plan

Get 5 demos per free account vs. 1 demo on Storylane. Try Pro for free without a credit card.

Personal Support Included

Everyone on Supademo Pro or Free receive personal support vs. limited support on Storylane Free.
Easier branding and customization
Custom Domains

Let your brand shine through with a custom URL, colors, logo vs. Storylane-branded URLs.

Demo Reactions

Get sentiment data to compliment usage-based analytics that are found in both Supademo and Storylane.

Useful Across Departments

Anyone - from marketing to customer success - can pick up and use Supademo without any training, unlike Storylane's more complex UI.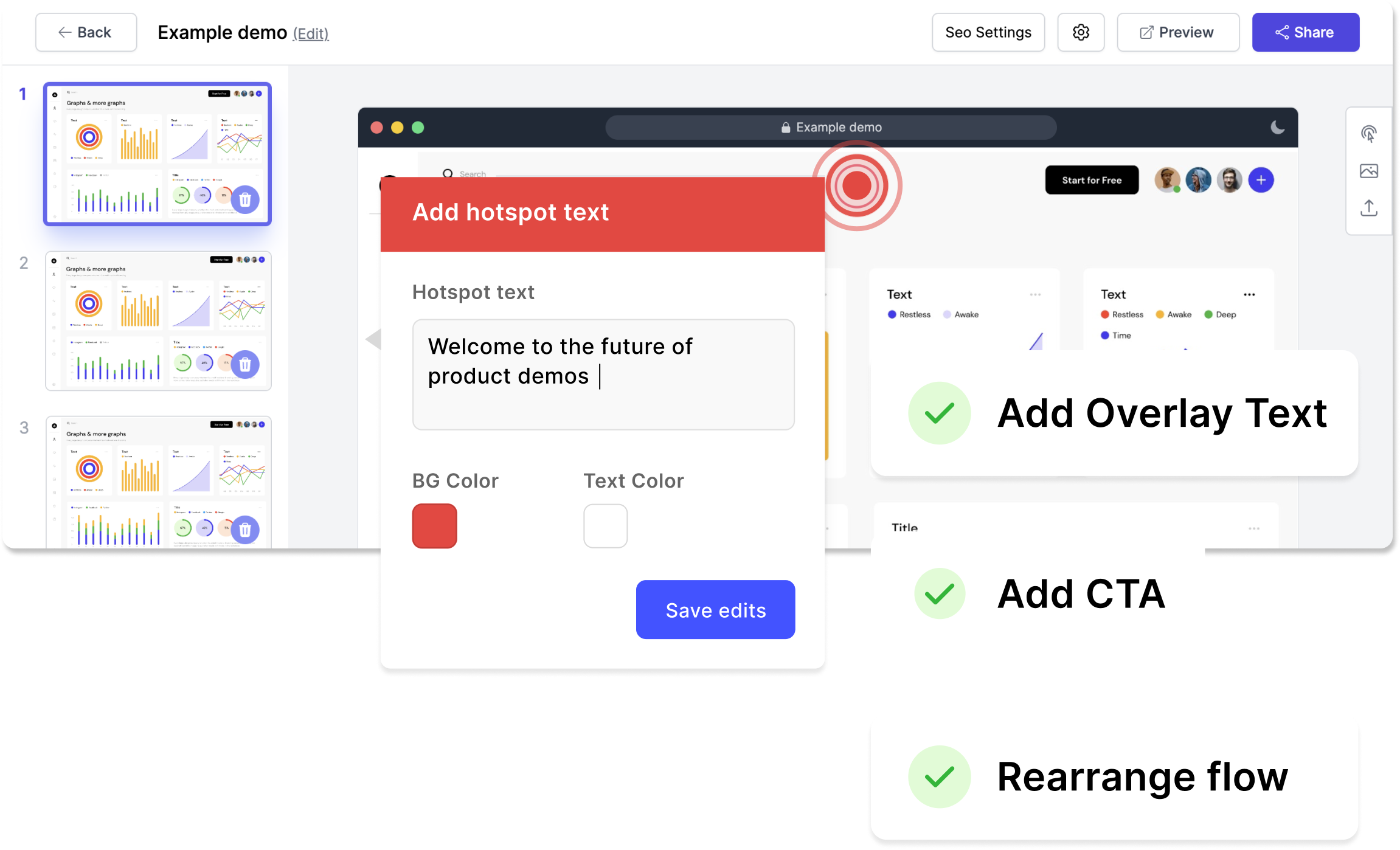 Lower Pricing
Supademo starts at $24/mo for unlimited viewers with a collaborative workspace. Storylane starts at $80/mo for two users.
Easier & Faster
Supademo focuses on a narrower set of features, making it is simpler and easier for general use.
Collaboration Included
Collaborate up to 5 members in Pro workspaces vs. signing up for Storylane Growth ($500/mo).
Generous Free Plan
Create five demos on our free plan vs. one on Storylane Free.
Demo Reactions
Gather sentiment for your demo with emojis 🤩
Personal Support
Hands-on support across free and paid plans vs. limited support outside of Storylane Growth.
Looking for your Storylane alternative?
Have additional questions on why Supademo is an excellent alternative to Storylane? Check out our frequently asked questions.